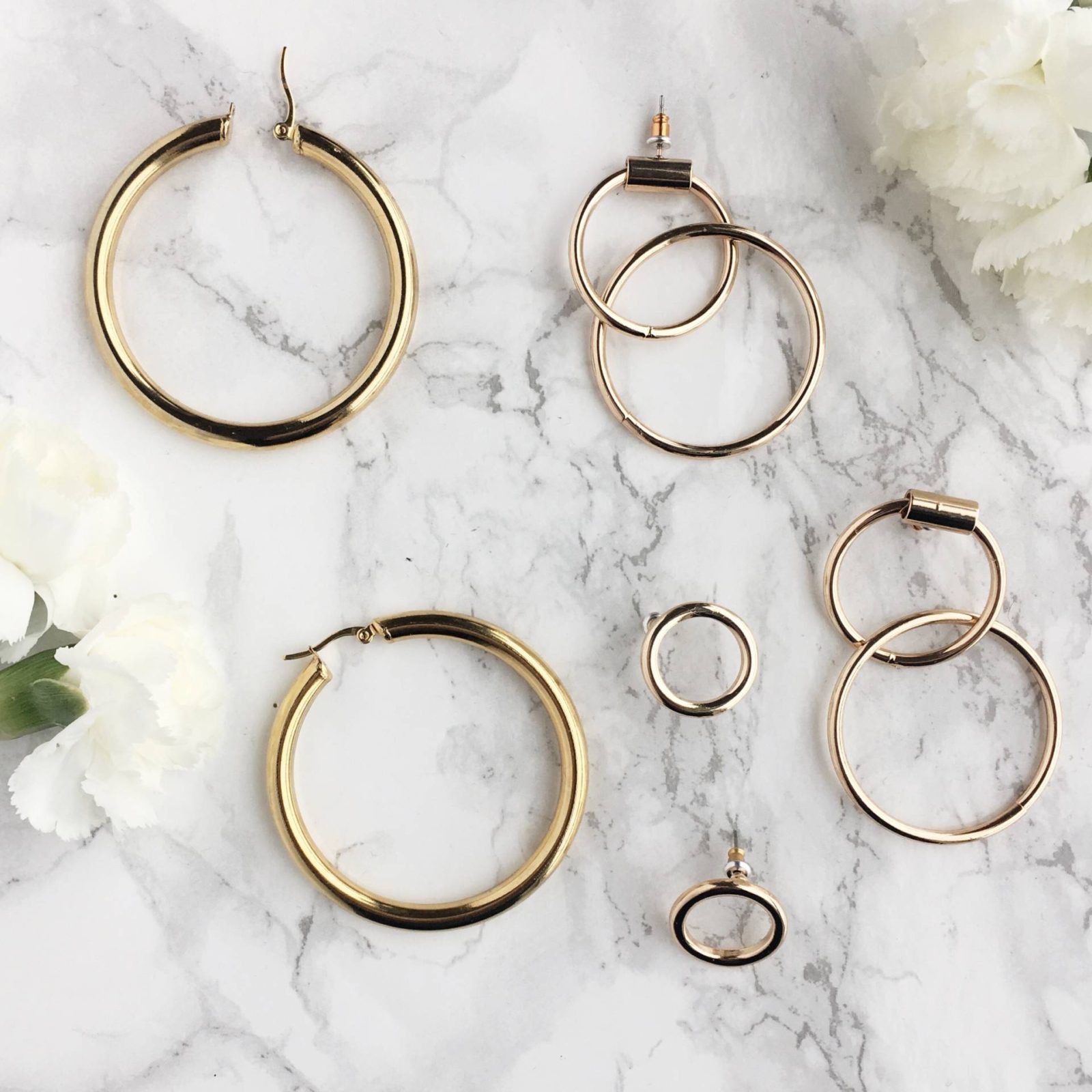 In high school hoop earrings were against the  dress code, so I wore them on weekends as much as possible. I loved how a simple gold pair added a chic vibe to my casual looks. I also loved styling rhinestone hoops for dressier occasions.
Hoops are such a classic and simple jewelry staple that everyone should try. This season, they're back in a major way! The gold hoop earring trend is one of the biggest jewelry trends of spring 2018.
As with any trend, each time it comes around there's an updated way to wear it. No matter what your style, there's a hoop earring out there that you'll love! Below I'm sharing 3 ways to wear the gold hoop earring trend in 2018.
1.Classic Gold Hoops

A simple gold circle is the classic and timeless way to wear hoops. If you're more of a minimalist when it comes to jewelry try adding a very thin pair to your outfit. More daring when it comes to fashion? Chunky or etched styles are perfect for you!
2.Circle Stud Hoops

If you're not into dangly Earrings, this style is for you! Try the gold hoop earring trend with a sleek pair of circle stud hoops. They give you the look of a classic pair of hoops without the hang.
3.Modern Hoops

This style is the newest way to wear hoops. It's an update on the classic circle earring with unique added elements. Multiple Circles, added pearls, double hoops… there are so many styles to try.
How I Wear The Trend:
I love wearing minimalistic circle stud hoops for an everyday casual look. For a classic semi casual look, I style it with a pair of classic gold hoops (I'm into chunkier styles lately). Modern hoops are perfect for a trendier look. I also like to rent designer hoop earrings from Switch (Read my Switch review HERE).
How do you style hoop earrings? Which style is your fave? Let's chat! Leave a comment below