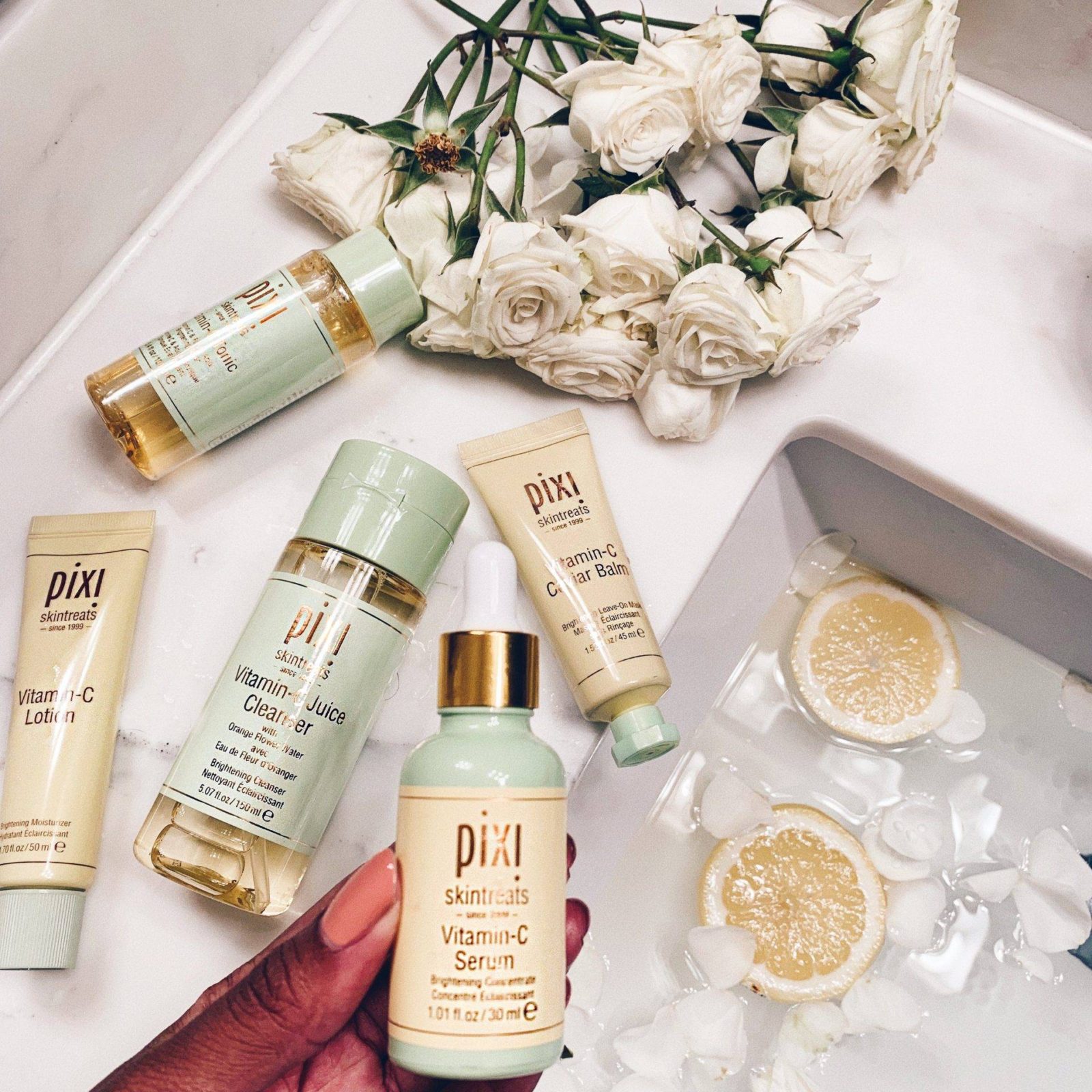 Skincare everywhere! It seems like there's a new skincare product dropping every week. With the constant desire to keep the skin looking fresh and beautiful, makeup and skincare brands have fully dedicated their production towards these goals. Preserving the youthful look while dealing with so many outside influences like air pollution, global warming, stress, and busy life, can be a constant struggle.
The skincare industry is focusing on creating formulas and products that will help with these issues for all different types of skin. Lately, the skincare industry's attention has been put into making products enriched with certain vitamins that have been proven to have beneficial effects for the skin. That is why one of my favorite affordable skincare brands, Pixi, has created an entire collection of products with vitamin C as one of the main ingredients.
Before I move on with my Pixi Vitamin C Review, let me briefly introduce you to all the products in this collection, as well as the benefits of this particular vitamin that the brand dedicated a whole collection to. The purpose of this collection is using lemon and orange ingredients from citrus fruits to help brighten and exfoliate the skin.
The Pixi Vitamin C collection
 

1. The Vitamin-C Juice Cleanser ($18) is a product that is recommended for daily use. It is a cleansing water with brightening and antioxidant effects and other great benefits for the skin. It is used by applying a good amount on a cotton pad and swiping it over the entire face.
2. The Vitamin-C Tonic ($15) is the second piece of the collection. As the name suggests, it tones the skin, making it more luminous and bright. This is mainly due to the antioxidant power the tonic contains that stimulates the collagen production.
3. The Vitamin-C Serum ($24) is a concentration of highly enriched ingredients. With its brightening and antioxidants power, it immediately boosts the radiance of the skin, as well as keep it soft, smooth and repaired.
4. The Vitamin-C Caviar Balm ($24) can also be used as a mask! When you apply and massage it into the face, the balm stimulates collagen production and instantly boosts the radiance.
5. The Vitamin-C Lotion ($24) can be used as a daily cream and it is suitable for all skin types. Pixi calls this lotion a brightening moisturizer. 
6. The Vitamin Wakeup Mist ($15) is in the form of a spray. It awakens the skin and the skin tone by making it more lively and healthy. Its strengthening and toning benefits prepare your skin for moisturizer or can be used to refresh your face throughout the day. 
7. The Best of Vitamin-C package ($22) is the perfect travel-friendly set that contains mini versions of the toner, lotion, and the balm.
My Pixi Vitamin C Review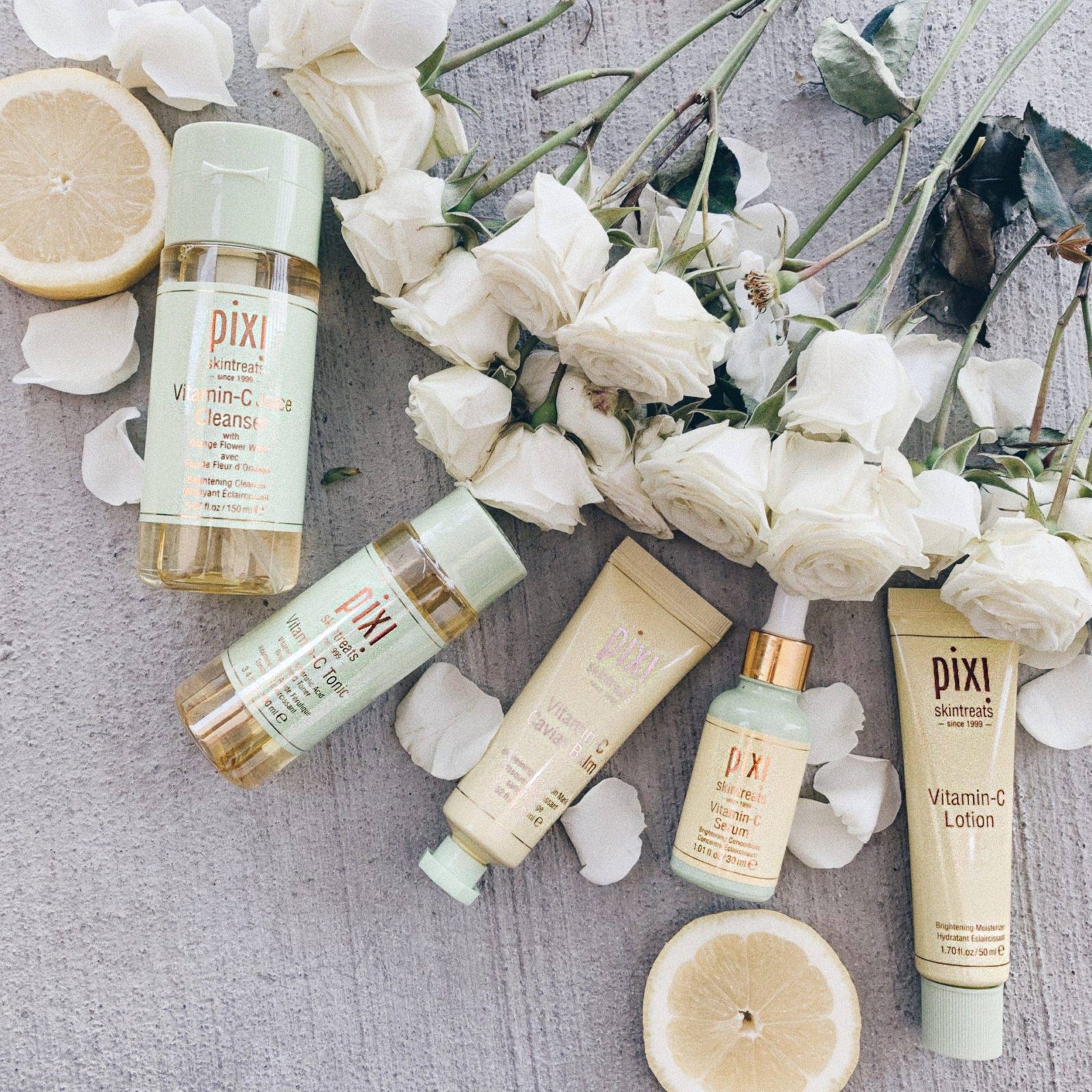 I've used other vitamin C skincare products before and they really helped with my hyperpigmentation. They also boosted my skin with an overall glow. Needless to say, I am a big fan of using vitamin c in your skincare routine.
Pixi sent me the vitamin c collection as a gift, so I decided to try out all of the products for a few days to see how they worked. There are two products I would repurchase from the collection because they work really well. The others are a good way to add vitamin c to your routine but aren't as effective in my opinion. Below is a breakdown of each product and my full Pixi vitamin c review.
Vitamin C Juice Cleanser

 This product is great at removing makeup but I didn't love it as much as my regular micellar water. It didn't leave my skin feeling as clean as I like it and the orangey smell was too strong for my preference.  I know this has a strong following of people that love it, but I just didn't.
Vitamin C Tonic

 I am a BIG fan of the Pixi Glow Tonic (read my review HERE). This vitamin c tonic was good but I didn't find it was nearly as effective as the glow tonic for instant results. I've read that if you use it in conjunction with the glow tonic it is great. However, if I had to pick just one to use, It would be the glow tonic over the vitamin c tonic.
Vitamin C Serum

This product is amazing! I've used other high-end vitamin C serums and this is right up to par with them. The price is great too because typically a vitamin C serum will cost you $60+ and this one is only $25. It helps give your skin a hydrated glow and helps it become more even-toned over time.
Vitamin C Caviar Balm

This is another amazing product from this collection. I used it as a mask and noticed an instant glowy, refreshed look to my skin. If you need a product that shows immediate results, this is the one.
Vitamin C Lotion

I have dry skin so I didn't find this lotion as hydrating as I need. If you have normal or oily skin, this might be a great lighter lotion for you.
Vitamin Wakeup Mist

Such a refreshing mist, especially if you keep it in your skincare fridge! I think the light fragrance really helps with the "awake" feeling I got after using this. However, I do find myself grabbing my other mists more frequently because they have more skin benefits. It's not a bad product, there are just others I like more.
You can find these Pixi products at target, Pixi boutiques, and online at other retailers. click the links below to shop.
Shop The Collection: 

Have you tried any of these products? Do you use Vitamin C? Let's chat! Leave a comment below.