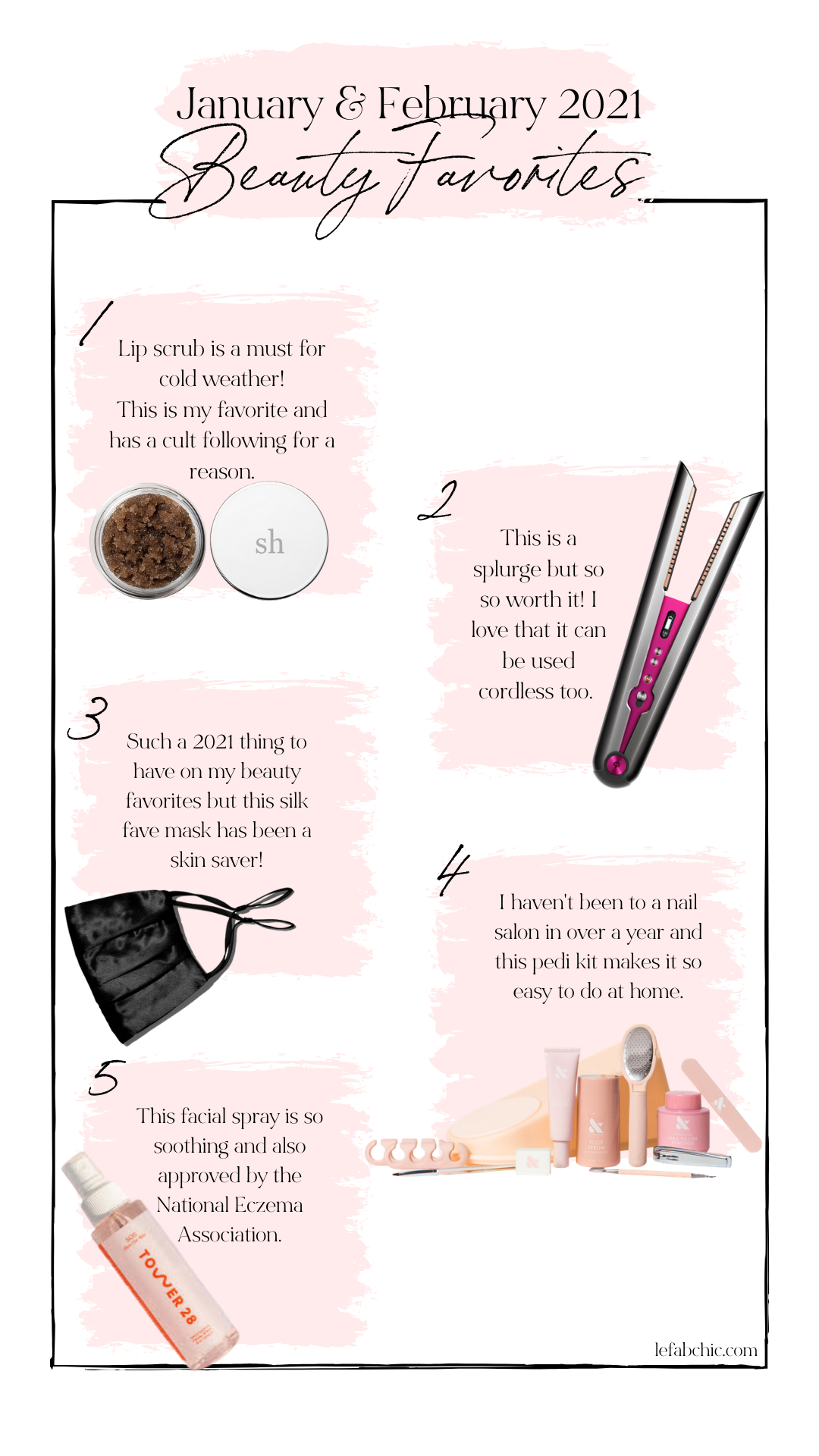 First beauty favorites round up of 2021! I feel like last year was really all a blur. I've been staying home for almost a year now, so I'm trying to get back to making things feel a bit more back to normal. That includes getting back to posting my monthly beauty favorites.
Since I have been home almost a year and haven't gotten any beauty services, I've been purchasing things to upgrade my at home beauty routine. Luckily, I've always been more of a DIY person when it comes to beauty services so there hasn't been much of a learning curve. Below are 5 of my favorite beauty products for the months of January and February 2021.
January 2021 Beauty Favorites
1. Sara Happ Lip Scrub

If you read my post on How to Treat Dry Lips, you've seen how I use this lip scrub in my routine. It has a cult following for a reason. It's just that good. It's been so helpful during these last few dry winter months.
2. Dyson Coralle Hair Straightener 

I've had my eye on this hair straightener for a while! It took me a long time to finally get it because the price was the most I've ever seen for a hair straighter. I ended up getting it for Christmas but I can definitely say, I wish I had bought it sooner. It 's the best straightener Ive ever used (and I've tried a lot). My hair is healthier since using it too, as it has technology that give less heat damage than traditional hot tools.
3. Slip Silk Face Mask

A sign of the current times, a face mask has made it into my beauty favorites. Silk is a great fabric for people with sensitive skin or who are acne-prone. It's more breathable and soft against the skin. I like to layer a silk when possible and I notice my skin in less dry and irritated when doing that.
4. Olive & June Pedi Kit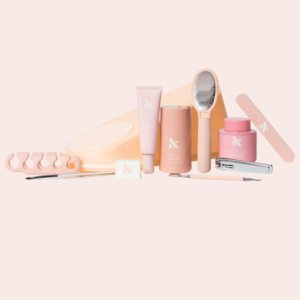 It has been a full year since my last professional pedicure. THIS pedi kit from Olive and June has made at home pedis so easy! The results are salon quality too. My favorite part of the kit is the POSEY foot stand. It makes giving your self a pedicure much easier and more comfortable. This would make the perfect gift! You can also shop many of their tools and polishes now at Target.
5. Tower 28 S.O.S Spray

A facial mist is one of those items I love to have in my skincare routine. It instantly refreshes and revives the skin. Lately I've been loving the S.O.S Spray by tower 28! It so simple yet soothing. I love that it is formulated with clean ingredients and is also approved by the national eczema association. I've been spraying it on any random eczema flare ups i get and they do seem to heal faster than with just cream alone.
Shop The Post: 

What products have been your favorites recently? Did you try anything new and love it? Let's chat! Leave a comment below.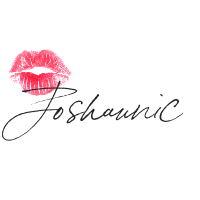 For previous Beauty Favorites posts, click HERE.