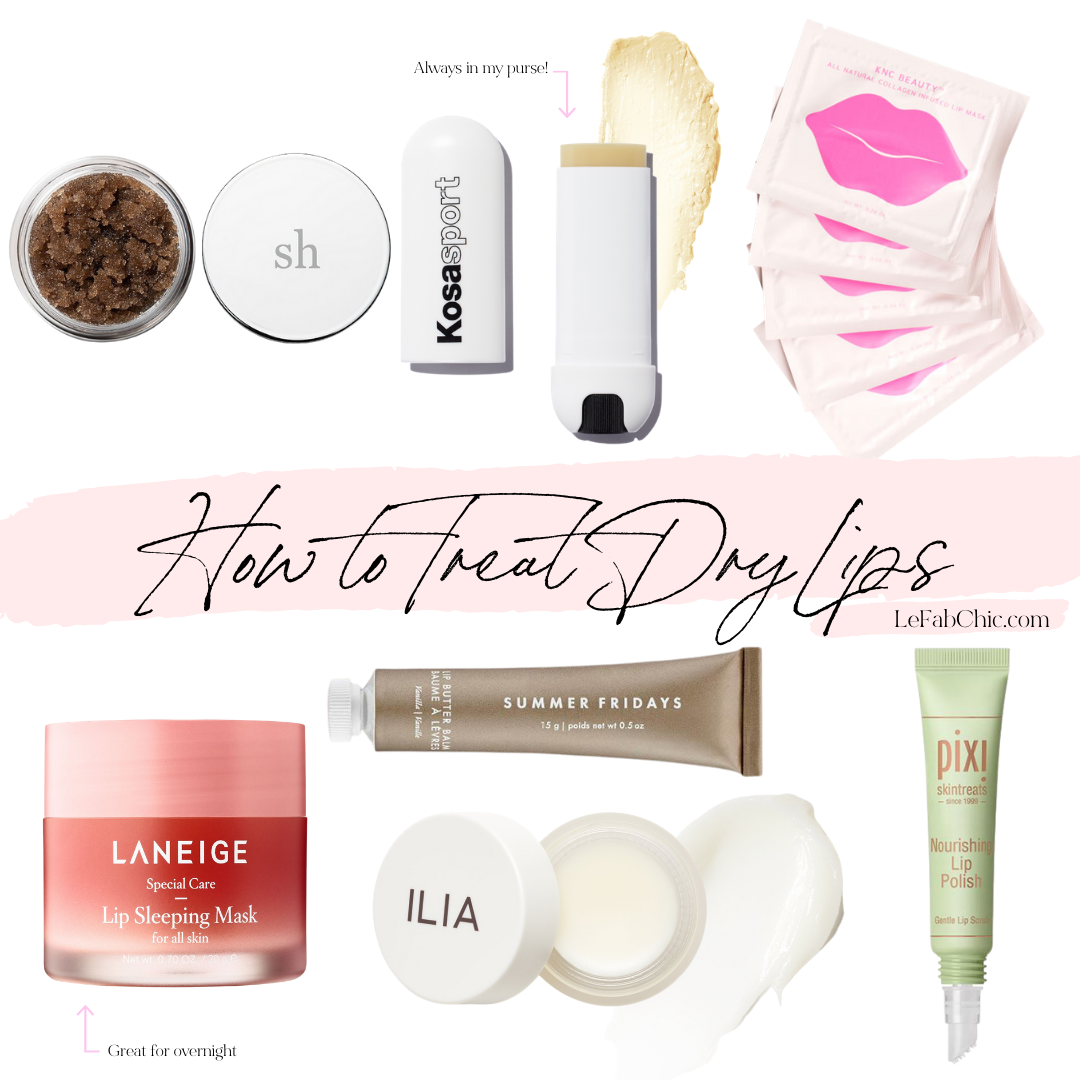 Dry lips are just not a good look. Not to mention, it's very uncomfortable when you have dry lips. Anything from colder weather to not drinking enough water can cause the skin on your lips to become dry and lackluster. Even wearing certain lips products can make your lips even drier after you use them. Have you ever wondered how to treat dry lips?
I used to experience dry, chapped lips often when I was younger. I have naturally dry skin and also wasn't always the best at staying hydrated. So in addition to drinking more water, I've tried my fair share of lip products. Below I'm sharing my tried and tested 3 step process on how to treat dry lips, plus a roundup of my favorite lip products that you can buy.
How to Treat Dry Lips in 3 Easy Steps
1.Lip Scrub

To get rid of the dry layer on your lips it's important to exfoliate. The skin on your lips is more sensitive than the rest of your face so it is important to use a product that is specifically formulated for them. My favorite lip scrub is The Lip Scrub by Sara Happ. This effective yet gentle formula has a beauty cult following for a reason.
2.Lip Mask

After you exfoliate your lips you'll want to treat them to a dose of hydration. Sheet masks for lips are perfect for treating and healing dry lips. The KNC Beauty All-Natural Collagen Infused Lip Mask is the perfect lip mask. It is formulated with clean ingredients and is made to smooth the lips while hydrating. This lip mask also gives your lips a more plump, refreshed look.
3.Lip Treatment

After exfoliating and a mask, you'll want to seal and protect your lips. Using a long-lasting lip treatment is the way to go! I have 4 favorite lip treatment products depending on my needs at the moment:
Kosas Lip Fuel – This is in my purse at all times! It works like a chapstick but is more nourishing and hydrating than any other chapstick I've ever tried. You can really feel the instant hydration and it doesn't leave a sticky film on your lips. The ingredients are all clean as well! This is a Holy Grail product in my beauty routine.
Summer Fridays Lip Butter – You can read my full review of this product HERE. I love that it is formulated with clean ingredients and gives off a slightly glossy look without being sticky. I use this when I want a natural glossy look, or over lipstick.
Laneige Lip Sleeping Mask – You've probably seen every beauty lover you follow rave about this. This Lip Sleeping mask is amazing for when you need deep hydration. If you sleep with it on overnight, you'll wake up with smooth soft lips. A little bit goes a long way so the container will last you a long time. For me, this is a must-have on long flights or when sleeping in hotels.
ILIA Lip Wrap Hydrating Mask – This is the newest lip product to my beauty cabinet and I already love it! It deeply hydrates and nourishes while also gently exfoliating. It has clean ingredients too! I put this on before a day of computer work and it keeps my lips hydrated all day.
*Bonus tip *For quick on the go touch-ups for dry lips I use Pixi Nourishing Lip Polish for gentle hydration. It doesn't have granules in the scrub so you can use it anywhere.
Shop My Favorite Lip Products:

Have you tried any of the products listed? Let's chat! Leave a comment below