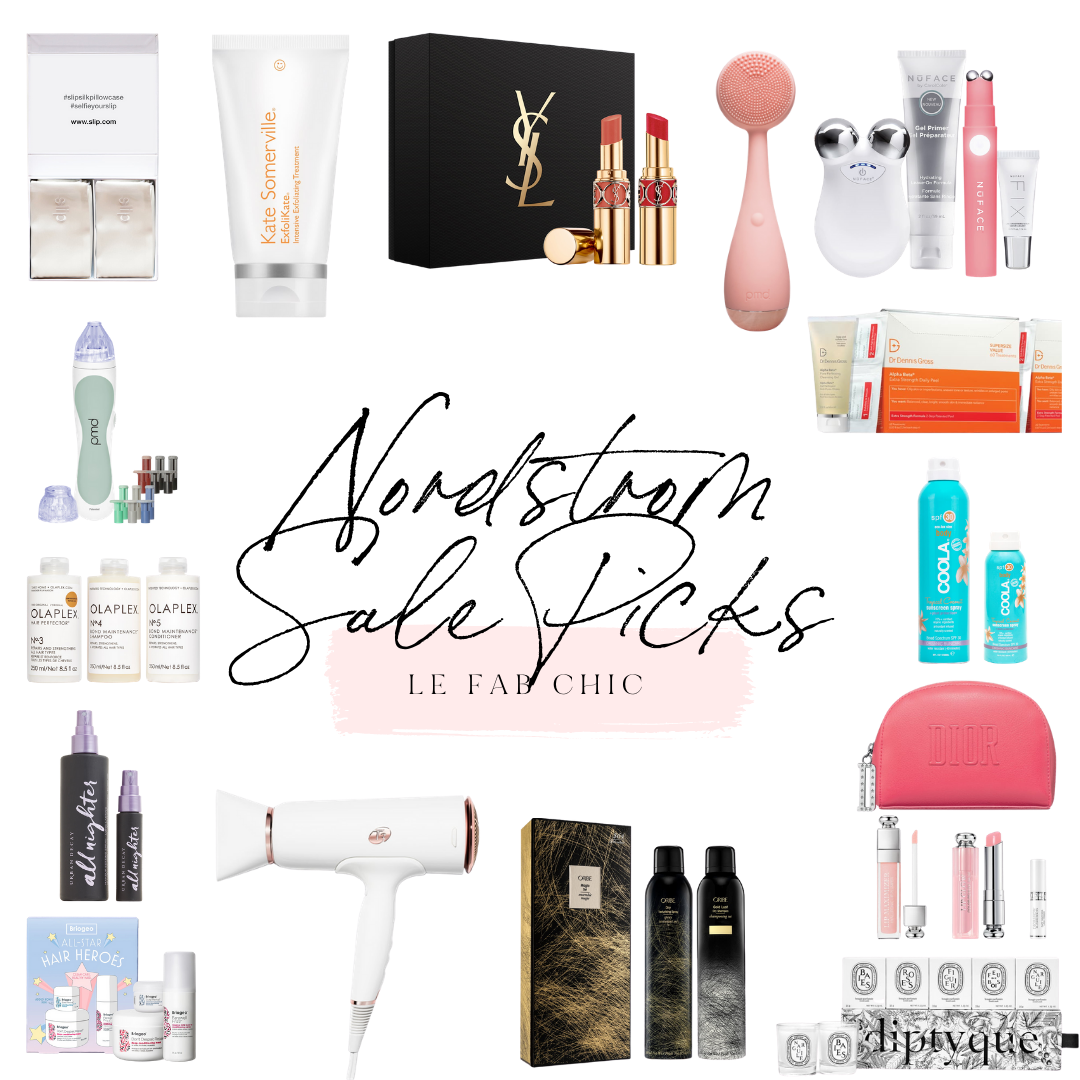 The Nordstrom Anniversary Sale is here! It happens once a year as an opportunity to stock up on pre-fall items at a discount. All categories are on sale, from home decor to fashion and beauty. The Nordstrom Anniversary Sale is a great time to save all around.
I've found that some of the best savings of the entire sale are in the beauty department. If there are items you've had your eye on, now is a great time to save money. Also, during the sale, there are deluxe sizes that aren't available any other time of year.
This year, due to the current state of the economy, the beauty department is a lot smaller. The good thing about that is, there are only high-quality items to choose from. I decided to pick 15 items that I've either used or have had on my wishlist for a while. Here are my 15 Norstrom Anniversary Sale Beauty Picks:
15 Nordstrom Anniversary Sale Beauty Picks

Skincare:

Kate Sommerville Exfolikate – This scrub is called the Hollywood 2 min facial because it gives you radiant glowing skin in under 2 mins. I love to use it when my skin looks really dull or before a special event. The Nordstrom Anniversary Sale beauty department is offering a bonus size for a great price.
Dr. Dennis Gross Alpha Beta Peel Pads – These peel pads have a cult following for a good reason. They are one of those skincare items that deliver instant results. Usually, they are pretty pricey, so I only use them 3 times a week if needed. The Nordstrom Anniversary Sale beauty department has them for the best price I've ever seen and at a size that I've never seen before.
PMD Skin Facial Cleaning Device – I've had this skin cleansing brush for over 3 years now and it's just as good as the first day that I used it. I love that it is silicone instead of fiber bristles because it is more hygienic. This is a great time to get it at a good deal and it will last for years to come.
PMD Personal Microderm – If you love microdermabrasion facials, you'll love this at-home device. It gives
NuFace Set – I had the NuFace FIXdevice and I really loved it for smoothing fine lines. Unfortunately, I dropped it and haven't been able to use it since. Now is a great time to replace it! The Nordstrom Anniversary Sale beauty department has it in an exclusive color and exclusive set for an amazing price!
Makeup:

YSL Lipstick Set – The YSL lipstick formula is my favorite. It's comfortable, subtle color, and moisturizing. The lipsticks can be pretty expensive by themselves, so I suggest finding two; one nude and one pop of color. The Nordstrom Anniversary sale is a great time to save on an exclusive package of 2 beautiful YSL lipsticks. These colors will look great on everyone.
Dior Lip Glow Set – No need to say this but, we all know designer brand makeup is expensive. I've found that while Dior Beauty Products are expensive, they're always worth the price. The work so well! My personal top 2 Dior beauty products are the Lip Glow Balm and Lip Glow gloss. Now is a rare time to get them both in a chic set and at a discount.
Urban Decay All Nighter Setting Spray – I rarely wear a full face of makeup but when I do, this setting spray is a must! It makes your makeup last and looks flawless for hours. During the Norstrom Anniversary Sale, you can get a bonus size with a travel size and save some money.
Hair:

Olaplex Hair Set – So many people rave about this hair perfector and for good reason! I've seen significant improvement in my hair since I started using these 3 products. Now is a rare time where you can buy all three together at a really great price.
Briogeo Hair Heros Set – Briogoe is a very popular brand for good reason. The products work amazingly well. For the sale, they created a set with their top 3 Hair Heros. This is a great way to try the best from the brand at a lower price.
T3 Micro Cura Luxe Hair Dryer – Blow dryers we're never something I spent much money on. I got this one and it has been a game-changer. The heat type is less damaging and it has an auto-sensor for when you set it down. The Nordstrom Sale price is the lowest price I've ever seen it at.
Oribe Dry Spray Set – If you love texture in your hairstyles, Oribe Dry Texturizing spray is the Holy Grail. It gives your style texture and hold at the same time. It rarely ever goes on sale and especially rarely is sold in a set. Now is a great time to score a deal on it.
Body/Home:

Slip Silk Pillowcase Set – Sleeping on a silk pillowcase is so good for your hair and skin! SLIP makes the best silk pillowcases and hair ties. Again, the Norstrom Anniversary Sale Beauty department is the best place to grab them for a great price. If you're holiday shopping early, these make great gifts!
Coola Sunscreen Set – I've written about this sunscreen on the blog before (read it HERE) because it is amazing! For the sale this year, you can get a full size and travel size for the price of just the full-sized bottle.
Diptyque Candle Set – This isn't a beauty product but I do love adding candles to my bathroom and beauty areas. Diptyque Candles are truly a luxury and rarely ever on sale. This is the perfect set to try them out and see which scent is your favorite. After the candles are finished you can use them to store things like bobby pins and q-tips!
Are you shopping this year? What are your Nordstrom Anniversary Sale Beauty Picks?
Let's chat! Leave a comment below.