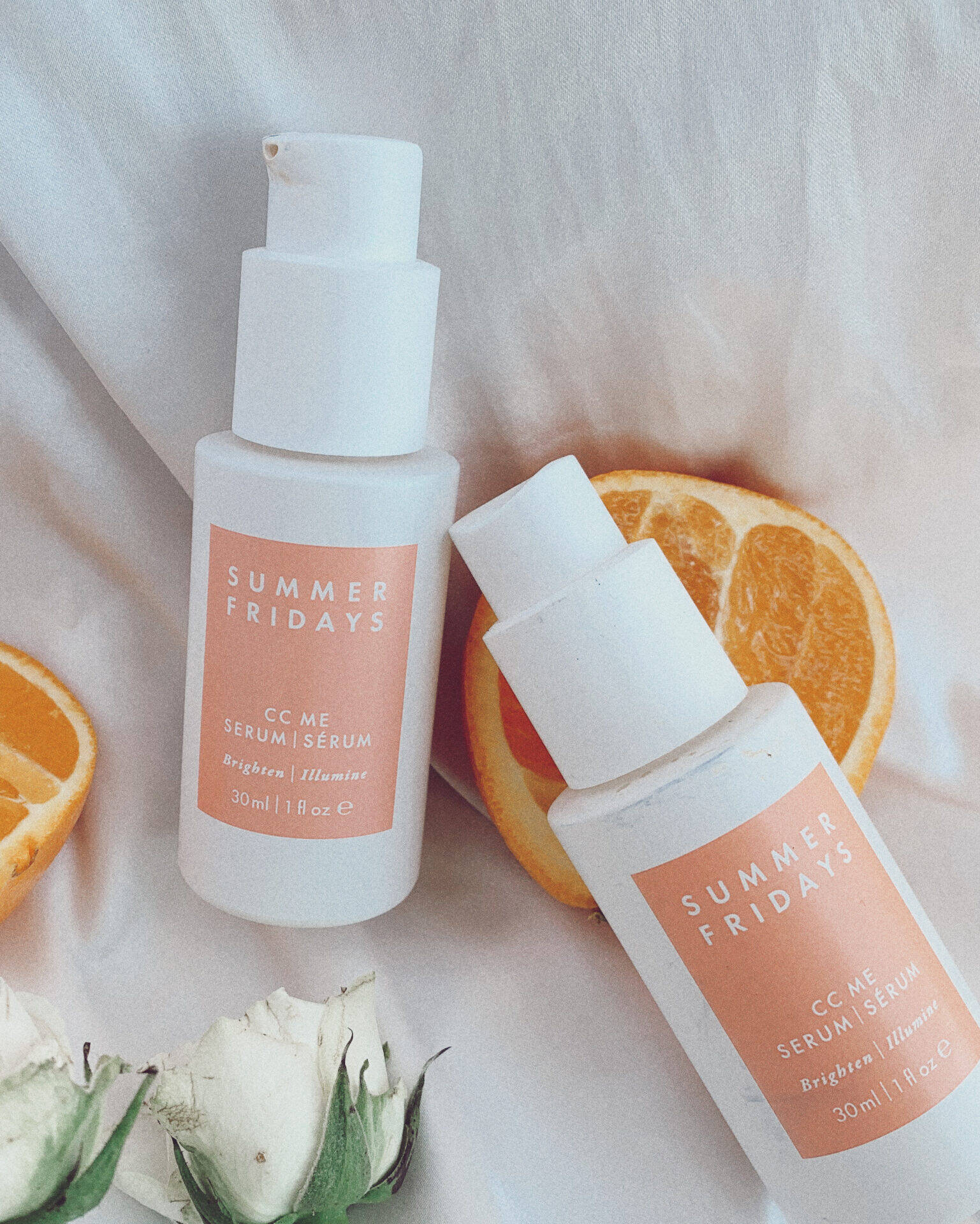 Every skincare lover has heard the importance of using a vitamin C serum. There are so many skin benefits from using vitamin C skincare like lightening hyperpigmentation and enhancing the skin's radiance. Since vitamin C is an antioxidant and has many benefits, so many skincare companies include a vitamin C product in their line up.
I started using vitamin C in my skincare routine a few years ago. It was amazing how quickly the vitamin C products made a difference in the evenness and glow of my skin. I've tried a lot of different vitamin C products over the years and some work better than others. The latest one I've tried is the CC Me Serum by Summer Fridays.
Summer Fridays is a skincare line that was created about 2 years ago by Marianna Hewitt and Lauren Gores. Their first product, Jet Lag Mask, has been seen all over Instagram. It is one of my favorite skincare products and I've talked about it on this blog many times (read HERE). So when they released a vitamin C serum I decided to try it. Below is my full review after trying it for a few months.
Summer Fridays CC Me Serum Review

What is it?
CC Me Serum is a vitamin c skincare serum. It is certified as a clean beauty product by Sephora. The serum is also vegan, paraben-free, and free. What makes it different from other vitamin c serums is that it is gentle and includes Squalane which is very Hydrating. It is formulated to work with a variety of skin types.
How much is it?
$64 gets you one ounce of Summer Fridays CC Me Serum. The price seems high at first but when you compare it to other high-quality vitamin c serums, it is actually lower priced than the others.
What are the key ingredients and their benefits?
Vitamin C: Instantly brightens dull skin and combats hyperpigmentation.
Squalane: Boosts hydration while sealing in moisture.
Peptide Complex: Improves skin elasticity and firmness.
What are the product claims?
Summer Fridays says "CC Me Serum is a multitasking serum that naturally brightens, improves skin texture, and reduces dark spots and hyperpigmentation."
My Summer Fridays CC Me Serum Review:
Compared to other vitamin C serums I used, the Summer Fridays CC Me Serum did not lighten my hyperpigmentation as quickly as the other ones. However, after long term use, it definitely made my skin tone more even overall and gave my skin a nice glow. I love that it is very gentle and hydrating because I have dry, sensitive skin. It did the job without being harsh. I think that's worth it not working as quickly as others did on hyperpigmentation.
After I ran out of my first bottle, I decided to take a break to see if I noticed a difference. I definitely did! My skin was not as glowy after about 3 weeks of not using it. I decided to buy a second bottle and that beautiful, more even glow returned instantly. The fact that it has clean ingredients is amazing because I've been trying to use my clean products in my routine.
It's safe to say that Summer Fridays CC Me Serum will be part of my morning skincare routine for a very long time. It works and has multiple benefits. To try it yourself, click the images below to shop.
Shop The Post:

Have you tried CC Me serum? Did you love it? Let's chat! Leave a comment below.