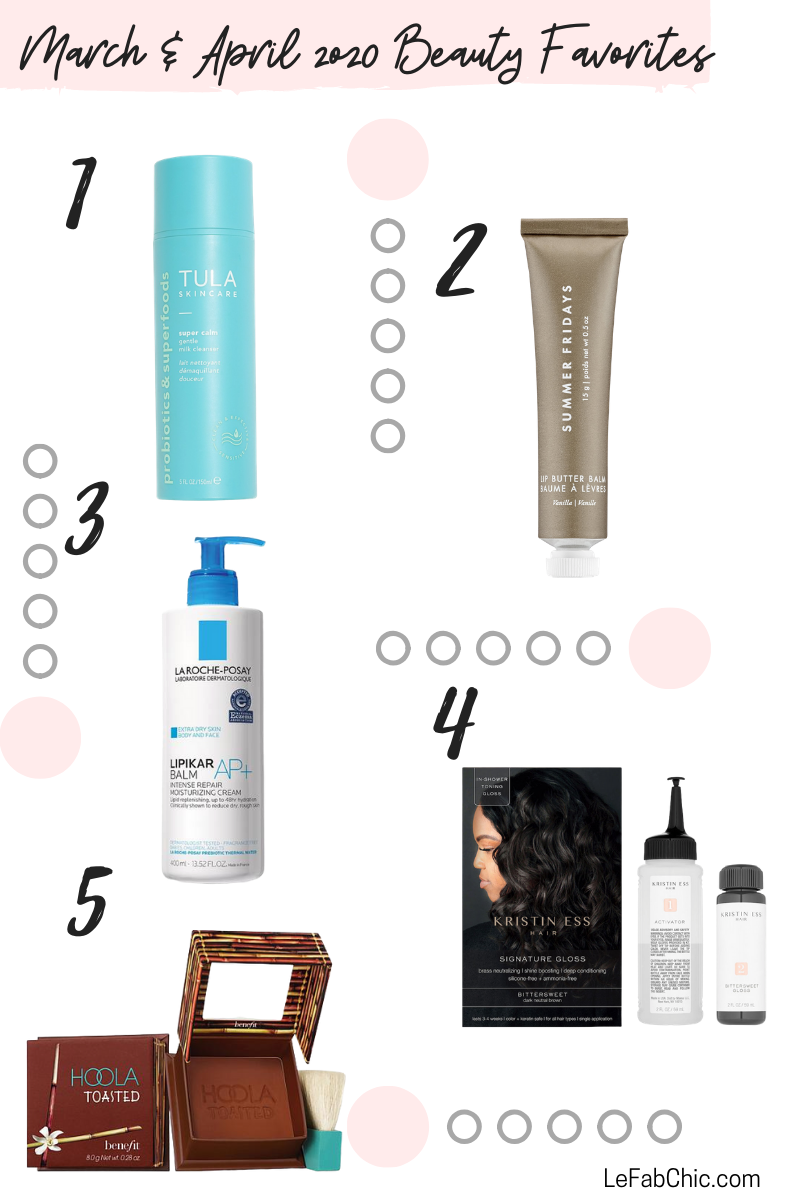 So much has changed in the world since my last beauty favorites post. At the beginning of March, I decided to cancel a girl's trip to vegas, and then shortly after, California issued a "Safer-at-Home" order due to the global pandemic. With everything changing so quickly, I didn't post as much as originally planned.
Staying at home also meant trying fewer new beauty products. Stores have been closed and there have been very few times that I have worn makeup during this time. So I decided to combine my March & April 2020 Beauty Favorites. These have been tried and true favorites of mine, especially during this time.
March & April 2020 Beauty Favorites
1. Tula Super Calm Cleanser

I've been using this cleanser since the end of January and the bottle has lasted this whole time! I have sensitive dry skin and I feel like this it the perfect cleanser for me. It is so soothing and has never left my skin feeling tight or dry. This gentle milk cleanser is also a clean beauty product that includes probiotics and superfoods.
2. Summer Fridays Lip Butter Balm

I talk about this brand very frequently because they make two of my holy grail beauty products. They launched a new lip balm in March and I decided to order it. I absolutely love it! The lip balm is so hydrating without being sticky. It is also a clean beauty product. The formula is long-lasting and the vanilla flavor is subtle and natural.
3. La Roche-Posay Lipikar Balm 

Hydrating body lotions have always been a must-have for me! I've tried so many. Over the last year, I have consistently used this moisturizing cream after showering and it really deeply hydrates my skin. Now with the pandemic and the frequent need to wash your hands, so many dishes and sanitize everything, this has been amazing for my hands! It also had the National Eczema Association seal of approval. so if you have eczema like me, I highly suggest you try this.
4. Kristin Ess Signature Gloss

I started doing my own hair a few years ago and skipping the salon. I've tested so many products to see what gives me salon results at home. This hair gloss is one of them! I personally use it to revive my hair extensions by taking away the brassiness and adding shine. I have also seen so many people on Instagram using it to freshen up their salon color without causing any harm. The results do not damage your hair or any work your colorist has done. They completely wash out in 6-8 weeks. This is the perfect quarantine DIY beauty hack.
5. Hoola Toasted Bronzer

There haven't really been many occasions where I have worn makeup during the last two months. Especially with having to wear a face mask any time I am in public. However, on the rare occasion that I've decided to put on makeup, I put on this bronzer every time. It really livens up my face overall. I even use it as an eyeshadow for a pulled-together look.
Shop The Post: 

What products have been your favorites during this time? Let's chat! Leave a comment below.