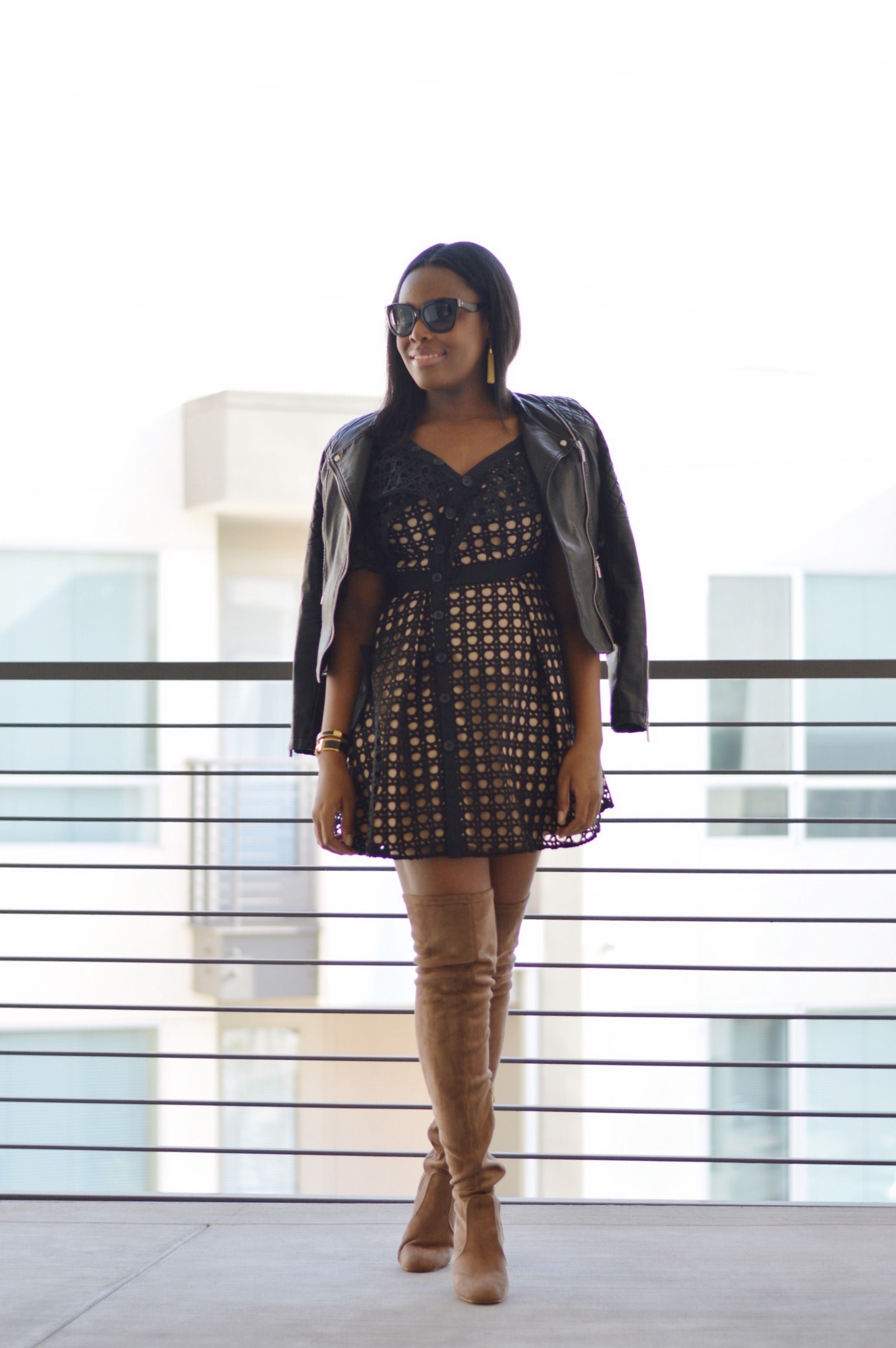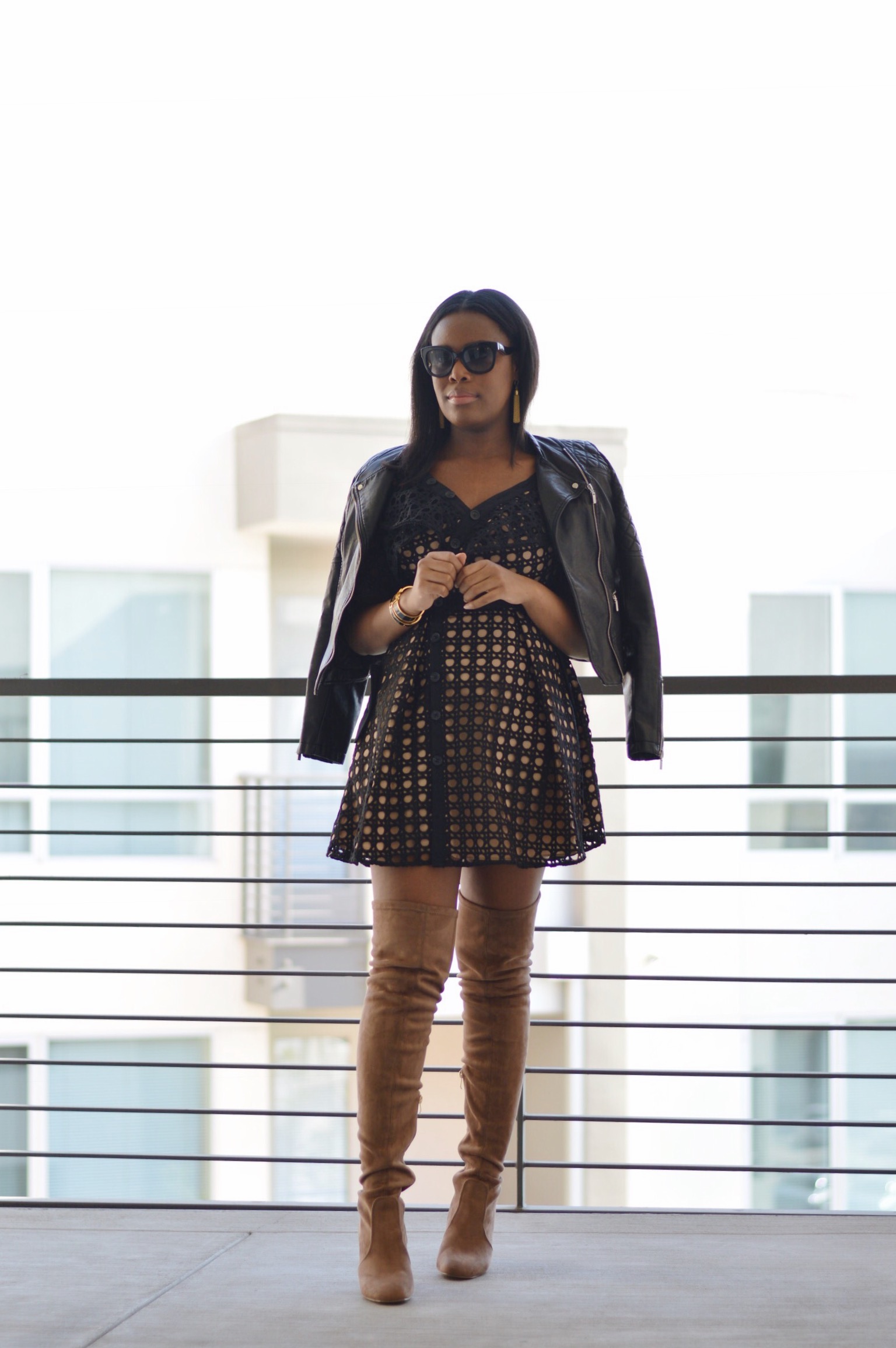 Winter is such a great time to try new fashion trends. I haven't had a chance to really cover winter fashion topics because it is still pretty warm in Los Angeles. Although it looks like I will miss out on getting to style winter looks, I still want to share my favorite fashion tips for those of you that live in colder areas.
I fell in love with this dress by Self Portrait and wanted to style it for this season. I paired it with over the knee boots and a a leather jacket to make it season appropriate. Since the dress is a bit more chic than my everyday look, I was excited to pair it with some of my favorite jewelry. Shop my look by clicking the pink links or images below. Also keep reading for my style tips on how to wear a dress in winter.
Shop My Look: 
Dress: Self Portrait // Jacket: Poshmark // Boots: Pretty Little Thing
Earrings: cabi // Bracelet: Hermes // Sunglasses: Kate Spade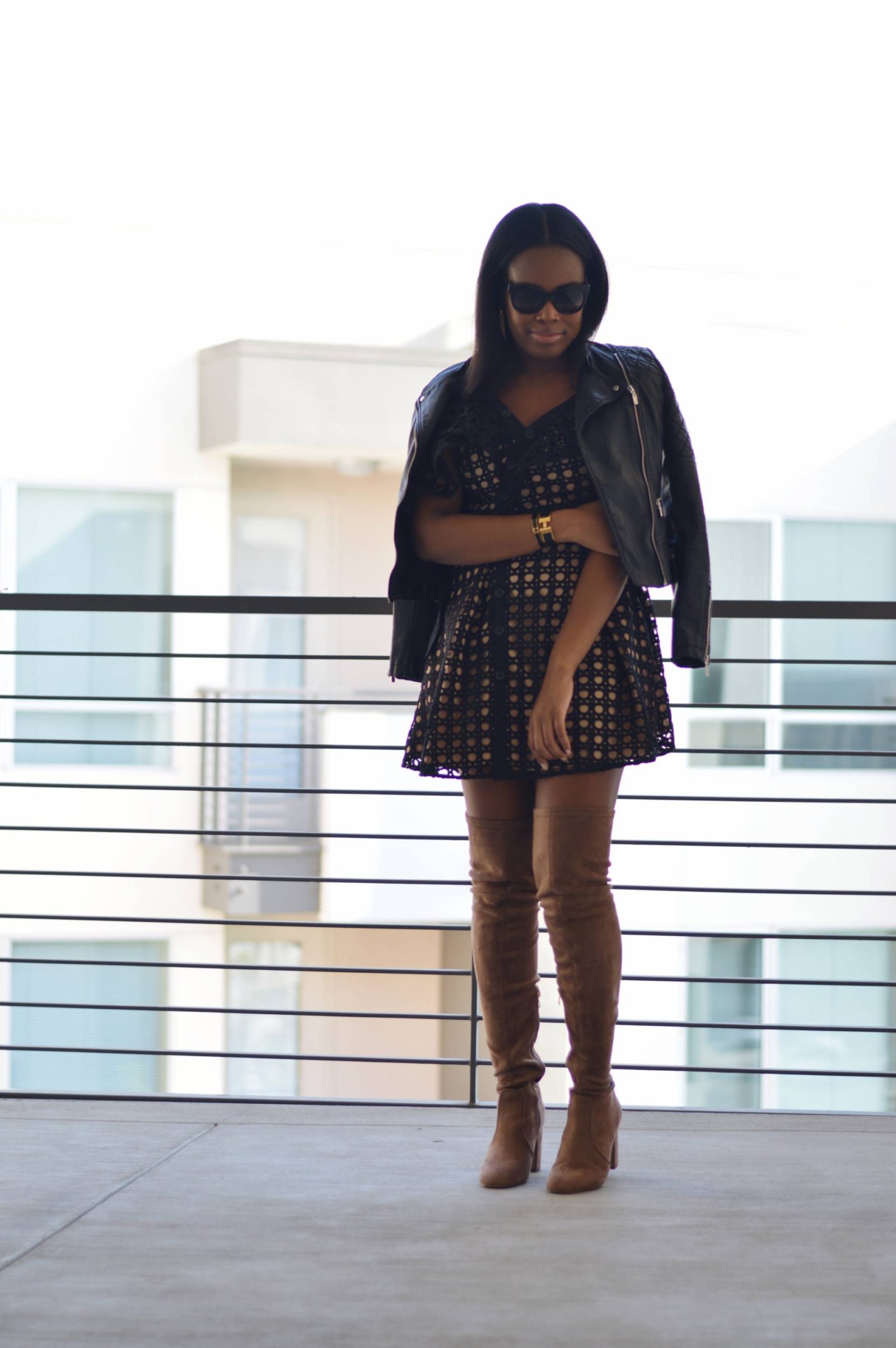 How to Wear a Dress in Winter
1.Choose season appropriate colors
Choosing neutrals or other winter weather colors helps make any dress look season appropriate. Warm dark colors or rich jewel tones are great for winter too. If you're going for a patterned fabric, choose a style that is a bit heavier than the lighter spring/summer fabrics.
2.Wear it with boots
The main reason many people avoid wearing dresses in the winter time is because they don't cover your legs. Over the knee boots are the perfect footwear for pairing with dresses in winter. They look chic but also add warmth. If you live in a really cold climate you can add leggings underneath the dress too.
3.Layer up
Adding layers over your dress make it wearable during the colder months. My go to layering piece is a chic faux leather jacket that keeps me warm yet stylish. There are so many fab coats on the market that will add style and keep you warm. You can also add a heavier coat over the lighter jacket for when you're outside.
4.Add seasonal accessories
There are so many great winter accessories that are stylish and warm. You can add gloves, a scarf, a hat, earmuffs… the options are endless.
What style tips do you want to share? Let's chat! Leave a comment below.