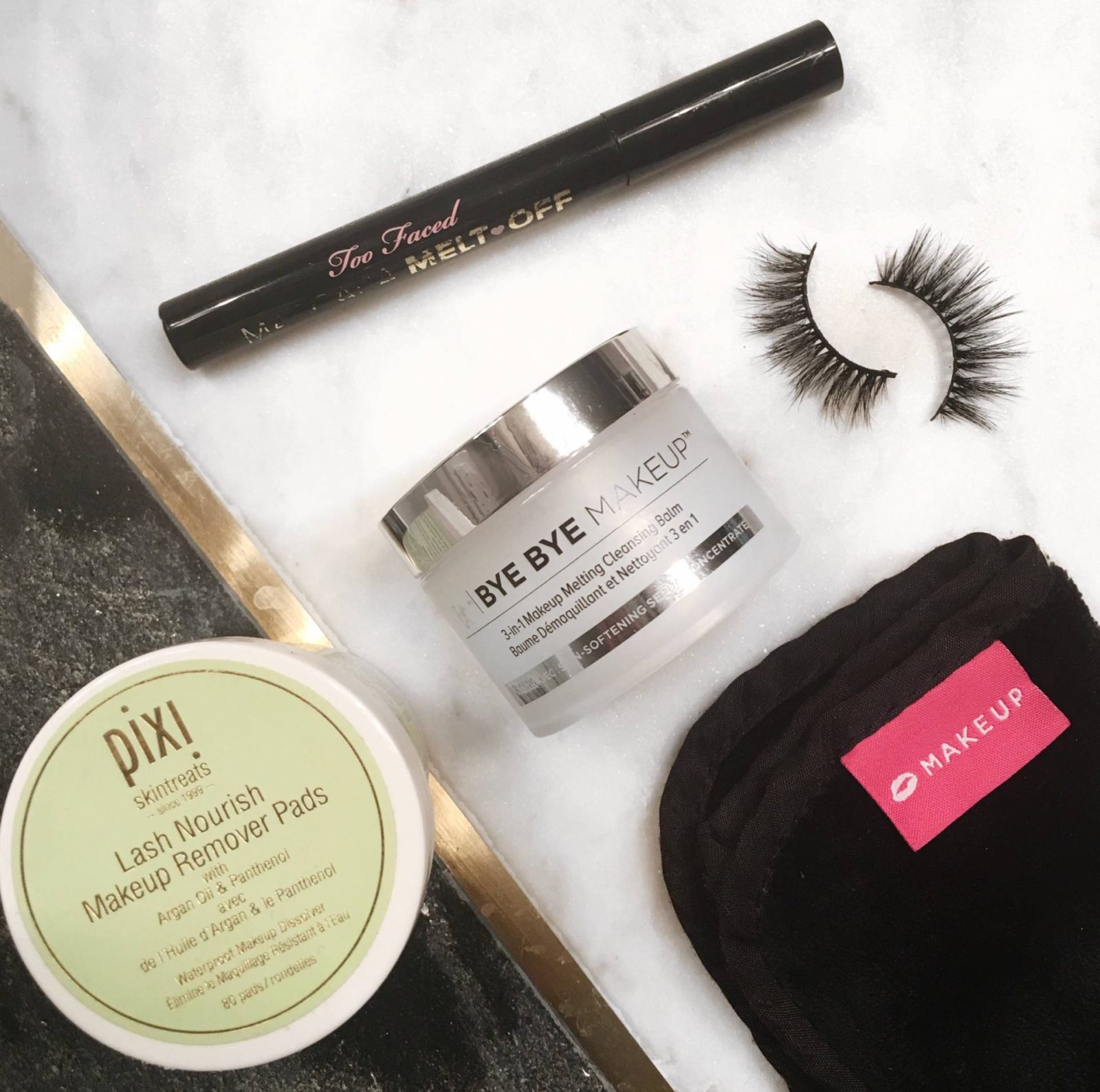 When I was younger I used to fall asleep with my makeup on all the time. The truth is, even though I heard from numerous people that sleeping in your makeup is bad for your skin, I didn't listen until I started to get clogged pores.
I started to remove my makeup at night with makeup wipes or micellar water which I thought was enough. I later learned that all this was doing was barely removing my makeup and just smearing the rest around my face. So technically I was still sleeping in my makeup.
Then one day I heard someone say "you spend a lot of time putting on makeup. So you should spend time taking it off". And that's when it really clicked. Completely removing your makeup isn't some quick one step process.
Over the years I've tried many different makeup removing products. I finally found a makeup removing routine that not only works, but nourishes your skin too! Below is my 3 step makeup removing process.
How to Remove Makeup
1.Mascara Cleansing Oil

Mascara is the hardest product to remove! I'm sure I'm not the only one who has removed my makeup and still woke up with mascara flakes on my pillow. THIS mascara cleansing oil removes both waterproof and regular mascara completely. The best part is the formula nourishes lashes while removing the mascara. I apply this, let it sit for 60 second and then move on to step 2.
2.Eye Makeup Remover Pads

Brows, liner, eyeshadow… applying eye makeup has so many steps. So removing the products should have just as much attention as the application. I use THESE eye makeup removal pads to wipe off the mascara oil in step 1, as well as the rest of my eye makeup. The ingredients in these pads also treat the delicate eye area in the process.
3.Oil Cleanse

Using an oil cleanser will breakdown and dissolve any makeup or SPF. This will prevent clogged pores. I use THIS oil cleansing cream to remove the rest of my makeup. I apply a layer of it to my face, let it sit for 1 minute, then remove with a wash cloth. I love THESE wash cloths because they are specifically made to remove makeup. The material they're made of grabs makeup better than a regular washcloth.
After these steps, you'll be fresh faced and makeup free! The last step will keep your skin hydrated as well. If you're really into skincare, you should follow up this routine by double cleansing. Read my post about double cleansing HERE.
Shop The Post
(click the images or pink links to shop)

How do you remove your makeup? What are your favorite products? Let's chat! Leave a comment below.