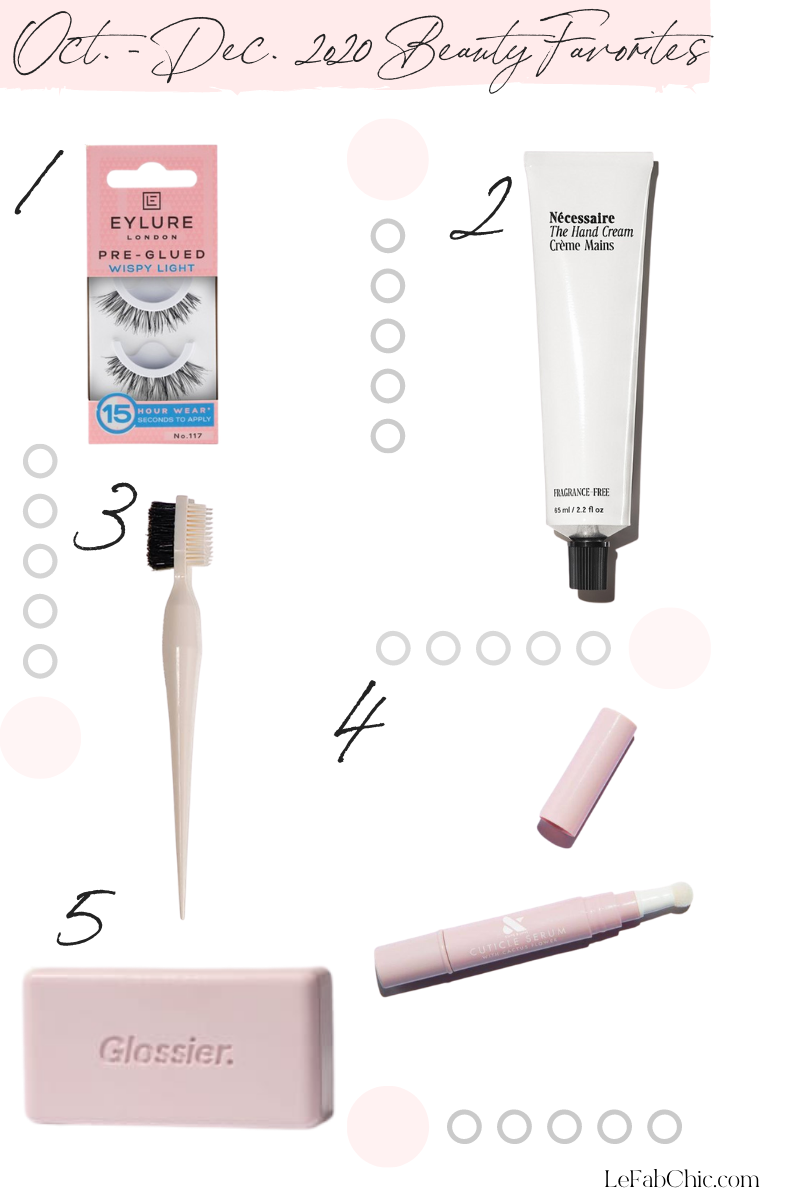 I can't believe I am writing my final beauty favorites from 2020 still in quarantine. SO much has happed this year and like I've said in previous favorites posts, I haven't tried as many beauty products since I'm mostly at home besides errands. When I am running errands, I wear a mask so beauty products aren't really top of mind.
None the less, I still am a major beauty junkie and LOVE trying out new products. I have made it a goal for 2021 (even though still in lockdown for who knows how long) that I will get ready more often and still try new and exciting beauty products. Below I am sharing 5 of my favorite beauty products from the last few months of 2020.
October – December 2020 Beauty Favorites
1. Eyelure Pre-glued Lashes 

How many zoom calls have you been on lately? Since most things have moved to virtual, I've looked for a quick way to enhance my on-camera look without too much effort. Eyelure sent me THESE pre-glued eyelashes and it was love at first blink.
Eyelashes can really make your eyes stand out but are difficult to apply sometimes. The glue is usually the hardest part; Use too much or too little and you have a lash disaster. These prevent that from happening! They are already sticky and can be applied so quickly. They last on without lifting all day! I purchased more on my recent Target run. 
2. Necessaire Hand Cream

EVERYONE needs hand cream right now. A combo of frequent hand washing, hand sanitizer, and cold weather can really dry your hands out. THIS one from Necesssaire has been my favorite. It's not greasy, absorbs easily, and has skin-nourishing ingredients. I keep it on my desk and nightstand. You get so much product and high-quality ingredients for the price too!
3. Baby Tress

If you have textured hair like me, you're no stranger to using a toothbrush to slick down your baby hairs. I can't tell you how many times I've been on a girls' trip and one of my friends comes out of the bathroom asking why there's hair in my toothbrush lol (it's for my hair…and they all have one now too). The thing with toothbrushes is they're a bit wide. Enter Baby Tress! This magical little brush has a narrow point at the top to reach anywhere on your hairline. It also has a comb texture on the back and a slim point at the end of the handle for achieving perfect parts and swoops. I'll never use a plain ol' toothbrush for my baby hairs again.
4. Olive & June Cuticle Serum

Dry hands mean dry cuticles too! But who has time to always wait for cuticle oil to dry when you remember to use it? THIS cuticle serum by Olive & June solves all of your cuticle problems quickly. It absorbs quickly and really nourishes your cuticles. The pen tube is really convenient to keep in your purse or on your desk. It's also now available at Target (one more thing to add to the cart).
5. Glossier Exfoliating Bar

Exfoliating your skin is a MUST during dry weather. It really helps get rid of dry skin and helps your skin absorb your other products better. I'm really into convenience when it comes to products, so I absolutely love that Glossier made an exfoliating bar! No more tubes sliding out of your hand or dipping your wet hands into a jar of body scrub. You simply rub this bar over your body and it gives you a gentle yet effective exfoliation. It smells amazing too!
Shop The Post: 

What products have been your favorites recently? Did you try anything new and love it? Let's chat! Leave a comment below.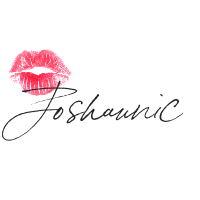 For previous Beauty Favorites posts, click HERE.