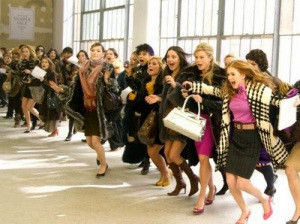 Ah, Sample Sales. We have watched scenes in movies of women waiting in lines, digging in boxes and playing tug of war for the hottest items at a very low price. Some of you may be wondering, is that really how it is to go to a sample sale? The answer is…YES! Sample sales are like fashions version of The Hunger Games; may the odds be ever in your favor. Follow these 6 simple steps to be a winner in the sport of sample sale shopping.
1. Follow your favorite brands on social media
Social media will give you a great start to your sample sale game plan. Brands post on Facebook, Instagram and twitter about up coming sample sale dates and times. Some will even post tips like where to park, easy directions, the sizes that will be available and when they will be putting out certain collections (this is great if you are looking for specific items).
2. Pick a great day and time
Some sample sales will last a few days. If this is the case, the best time to go is on a weekday between 1-4. There will be a smaller crowd during this time because most people will be at work. If you work during the week, do not try to go on your lunch break. Sample sales take time and your lunch hour won't be enough to look through all of the goods. If it is a one day sample sale or you can only attend on the weekend, you can get there and wait in line before the doors open (only for the bravest of fashion warriors) or get there a few hours later after the crowd has died down. Many companies will put new items out every hour to make sure everyone has a fair shot at scoring low priced fashion finds.
3. Go with a friend
Sample sale shopping is great when played as a team sport! Most sample sales happen in warehouses without mirrors. A good friend will be able to tell you if something looks great on you and is worth buying or not. I usually go with my friend Monique and we have sample sales down to a science now. When there are a lot of shoppers, one of us will stake out an area for us to use as a try on space, while the other will make a round to grab items to try on. We take turns doing this and helping each other figure out what to take or toss.
Having a teammate is also great if you are looking for specific items. You can show your friend what you are looking for and if she spots them while shes looking through boxes, she'll grab it for you. This will save you time since you'll have less boxes to dig through. Besides, going with a friend is just more fun anyway.

4. Dress accordingly 
As I mentioned before, most sample sales happen in warehouses without mirrors… or dressing rooms! This results in either having to know your perfect fit for the brand you are shopping or having to try on items out in the open. This can be done easily without exposing yourself if you wear the proper outfit. I have 2 options of what i call my sample sale uniform. I wear leggings, a spaghetti strap top, a wrap or jacket and thin flats. My other option is wearing seamless shorts and a fuller coverage bra under a flowy dress. It is easy to try on items over the leggings and since the flats are thin, you won't have to take off your shoes.
5. Come Prepared
Bring cash and a reusable shopping tote. Most Sample Sales are cash only. Some do take credit cards but sometimes will only have one line that handles credit card transactions. avoid the wait or having to leave your items behind by bringing cash. If possible have a few smaller bills on you as well. Bring a re usable tote to carry your newly purchased fashion goods in. Many sample sales will have plastic bags for your items but its always great to be prepare just in case.
6. Be Nice
Sample sales can really bring out the rugged warrior in some people. Be nice to the staff and your fellow shoppers. Make as many allies as possible. The staff may be willing to give you tips on when new items will be placed out or even go check and find a specific item for you. Your fellow shoppers may have scored something you wanted and if it doesn't fit, they may be willing to pass it to you instead of throwing it back into the never ending pile of clothes. Always be nice!
Happy sample sale shopping! I hope to see some of you out on the fashion battlefield soon!
P.s. If you missed your favorite brand's sample sale, check poshmark after the sale. Many sample sale shoppers buy to resell but it will still be cheaper than retail pricing. Use my code: HLAVR for a $5 poshmark gift card when you sign up!
xo, Jo