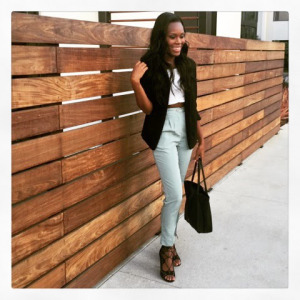 I am that girl. The one who is usually wearing all black (it's just so easy and chic). Lately I have been trying to mix more color into my outfit choices. Recently American Apparel had an UNBELIEVEABLE 90% off sale and I took it as an opportunity to add some colorful pieces into my closet. I've never been one for the colorful pants trend, but i figured with the classic trouser shape and more muted color, it would be an easy step outsie of my comfort zone.
Guess what? I LOVED this look! I paired these awesome pants with a simple white crop top from H&M, a black (ok, i couldn't just not wear black at all right?) boyfriend blazer from Forever 21, and some awesome strappy heels from JustFab.
I'm looking forward to adding more color to my wardrobe and sharing it with you!
XO,
Jo