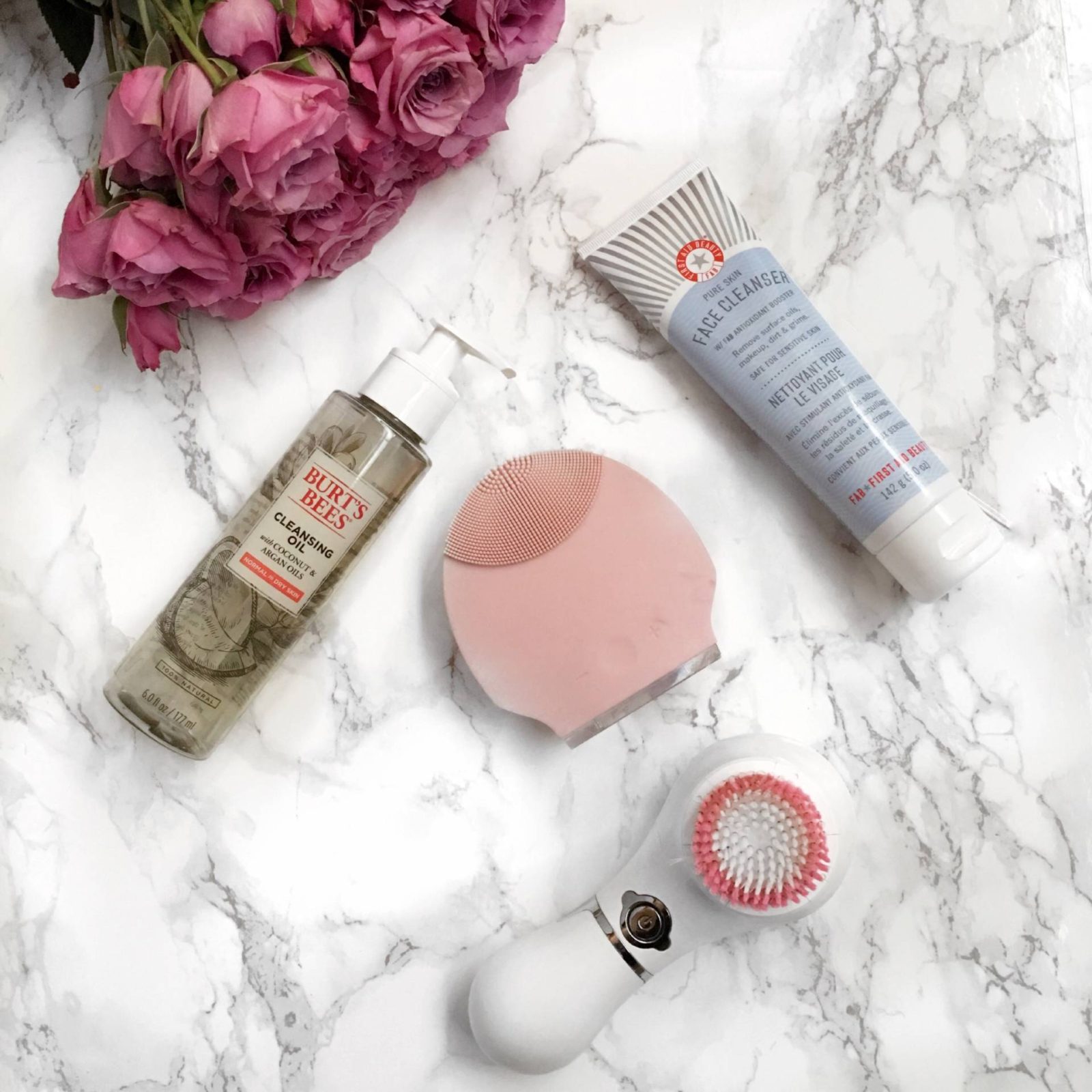 I'll admit, sometimes after a long day I'm not the best at fully washing my face before bed. I used to keep a pack of makeup wipes on my night side stand and would do a quick once over on my most exhausting days. This obviously lead to me having very clogged pores which eventually turned into comedonal acne. This mild type of acne forms when skin oil called sebum and old skin cells block the pores of the skin.
Even people who wash their face diligently can end up with clogged pores. Have you ever washed your face before bed and still woke up to a few traces of makeup on your pillow? Or have you followed up with a toner after washing your face to find the toner pad somehow had makeup on it? That's because even the best cleansers don't fully dissolve both makeup and the environmental grime we get on our faces throughout the day.
The easy solution to this is DOUBLE CLEANSING! This technique will prevent clogged pores without over drying your skin. You begin by washing your face with and oil based cleanser, then wash a second time with a foamy cleanser. Read below for why you should start doing this now.
Why you should start double cleansing your face now! 
1. Get a deeper clean– The oil cleanser dissolves makeup and other pollutants on the surface of your skin. It also pulls oily junk out from your pores. The foamy cleanser will wash of the oil and also be able to penetrate deeper into your pores. This will leave your face very clean!
2. Get the most out of your other products– with your face and pores being deeply cleansed, it will allow the other products you use to be absorbed better. By double cleansing first, you'll get the most out of your serums and moisturizers because they won't just be sitting on the surface of your skin.
3. Balance your skin– if you cleanse with just a foamy cleanser it can leave it feeling tight. Washing with just an oil cleanser can make your pores feel more clogged. Double cleansing is the perfect balance that will leave your face feeling fresh yet hydrated. It's the best of both worlds!
Double cleansing has helped clear my acne and give me glowing skin. I have sensitive skin so I use Burt's Bees oil cleanser followed by First Aid Beauty sensitive skin cleanser (which I discovered in my July sephora subscription box). Find more recommendations of awesome cleansers below.
Have you tried double cleansing? What's your nightly skin care routine? Let's chat! Leave a comment below!
I'll have more of my clear skin secrets coming soon! Be sure to come back for more.