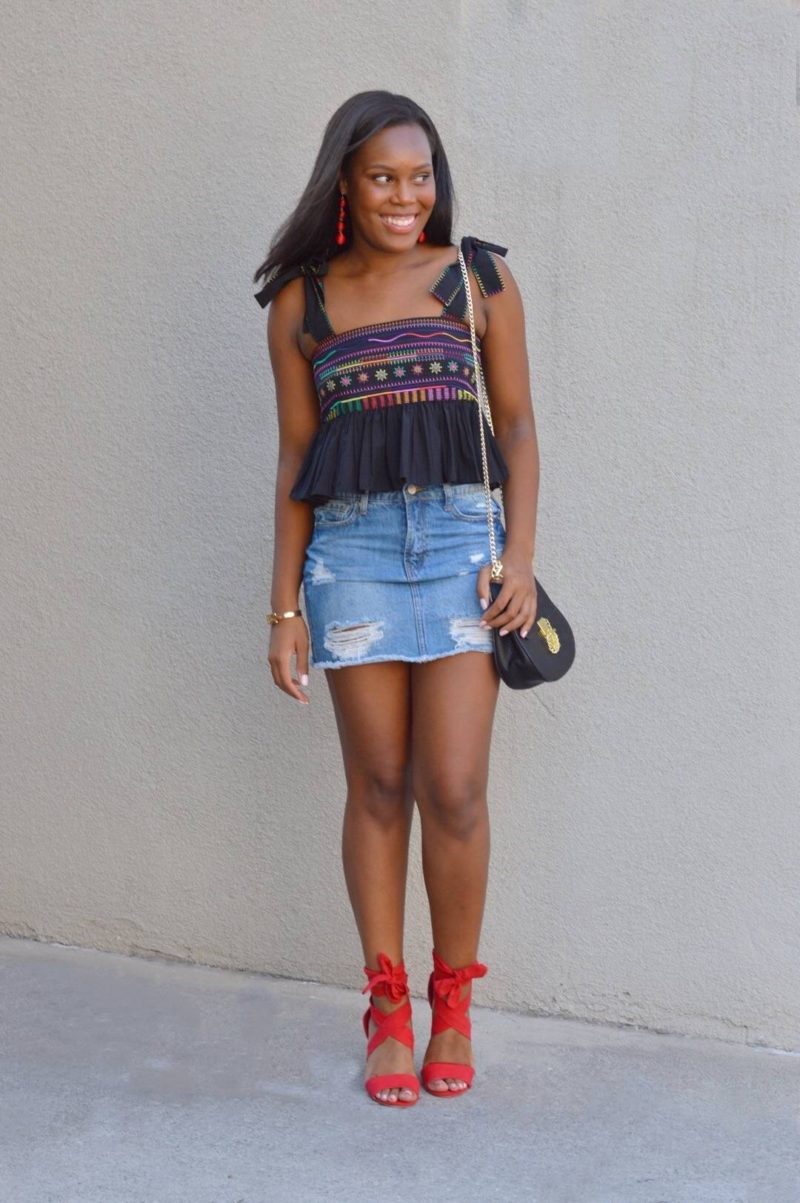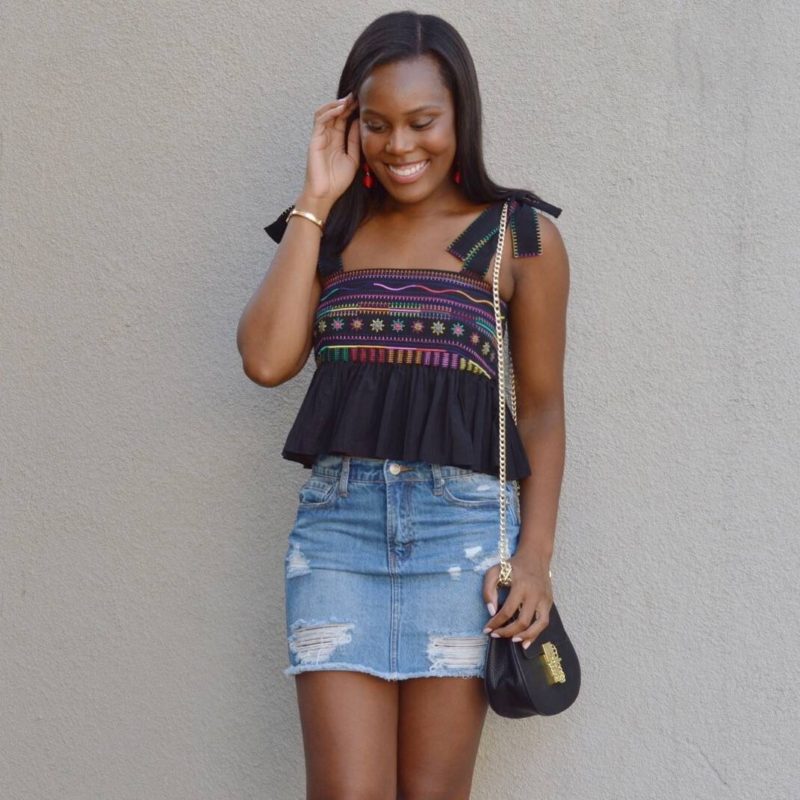 Has anyone else been living in simple T-shirt dresses and flip flops lately? Or shorts, a T-shirt and flip flops? I know I can't be the only one. Those are my go to formulas for casual summer style.
While those outfits are perfect for summer, some occasions call for a little bit more style. It can be overwhelming trying to style a chic casual outfit without going over the top. I have 5 fool proof tips for adding glam to your casual summer style! I'm sharing them below and also giving away a Gucci bag so keep reading!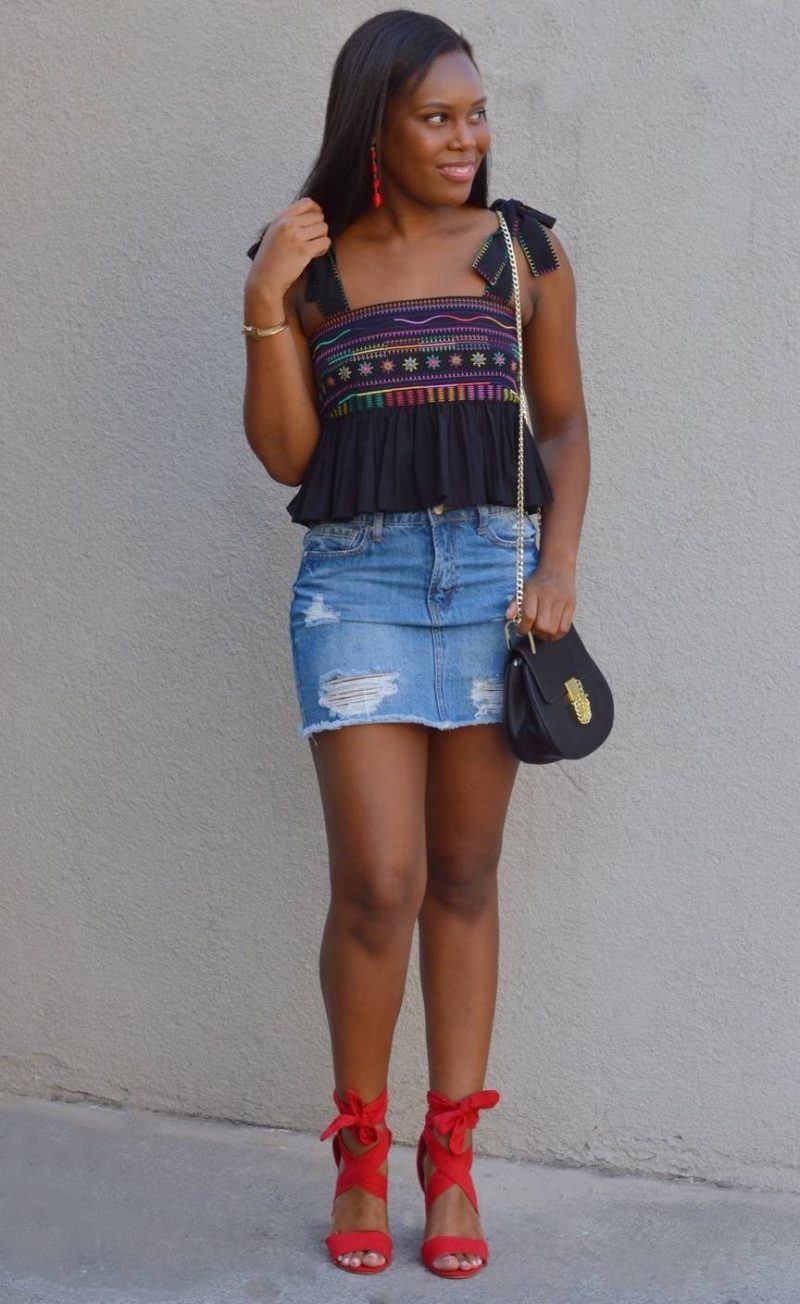 Shop my look:

How to Glam up your Casual Summer Style
1. Add a statement piece
Picking a piece that makes a statement is a simple way to elevate your look! This embroidered top has so many fun details. It's a chic swap for my everyday tank top.
2. Switch the shorts for a Skirt
Wearing a skirt instead of shorts instantly adds more glam! Not to mention, denim skirts are having a huge fashion moment right now. The worn in details keep the casual vibe.
3. Add a pop of color
I usually stick to neutral colors for my casual summer style pieces because they are easy to mix and match. Adding a pop of color to your look is a fun way to dress it up a bit.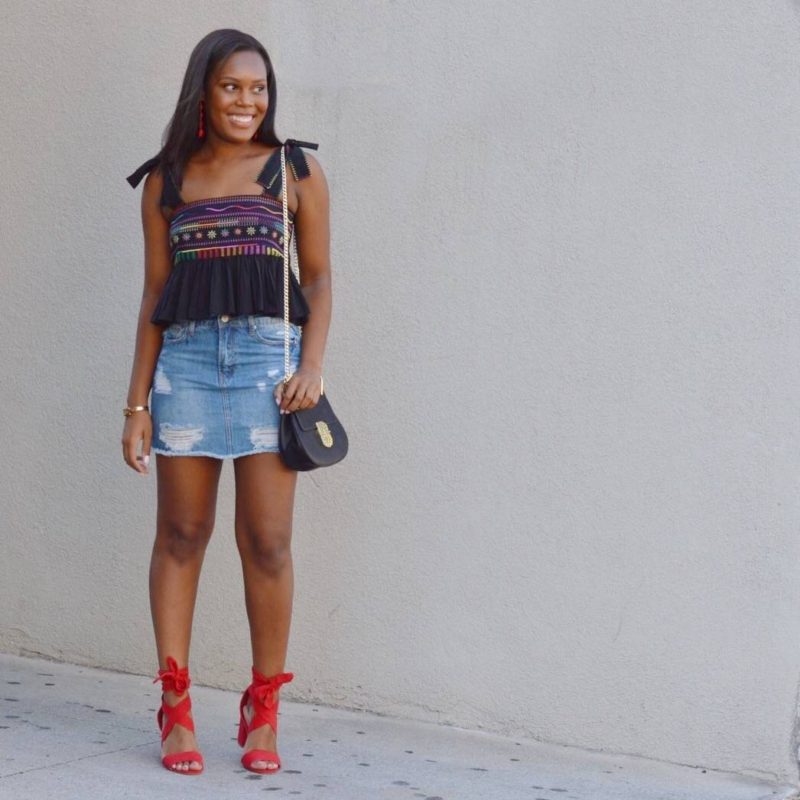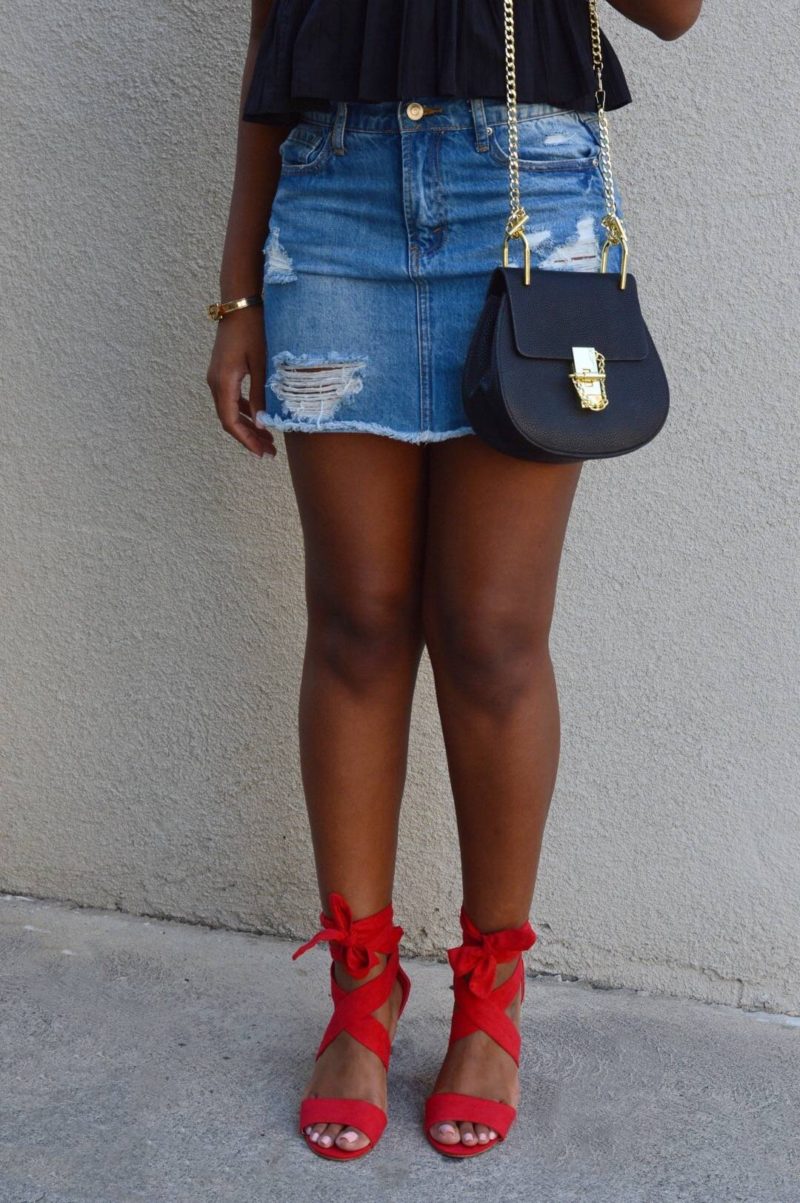 4. Try block heels instead of flip flops
I LIVE in flip flops during the summer. They're so comfortable and easy to throw on. However, if you want to add glam to your outfit, flip flops just won't  cut it. Block heels are a dressier shoe option and are still comfortable.
5. Upgrade your Accessories
Accessories are the most budget friendly way to switch up any outfit. Add a pair of statement earrings or your other favorite baubles for instant glamour. Check out my post about Must Have Statement Earrings for ideas. You can also switch out your everyday tote for one with stylish details.
Speaking of bags… here's your chance to win a fabulous Gucci Marmont bag. See the details below. Good Luck!
How do you glam up your casual summer style? What look would you pair this gorgeous Gucci bag with? Let's chat! Leave a comment below.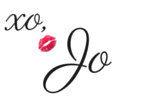 I decided to team up with some of my favorite bloggers and bring you an amazing giveaway. One lucky reader will win a mini Gucci Marmont purse.

Money Can Buy Lipstick | Blondes & Bagels | Glitter & Spice | DTK Austin | By Brittani Lauren | Life Lutzurious
Style Weekender | I'm Fixin' To Blog | So Heather | Blush & Blooms | Mrs. Casual | Style of Sam
Greta Hollar | Sunsets & Stilettos | A Lily Love Affair | The Trendy Tomboy | The Beauty Beau
Le Fab Chic | Red Soles & Red Wine | Rose Gold Lining | The Closet Crush | Cup of Charisma | Topknots & Pearls
Lots of Sass | Vandi Fair | Tonya Michelle 26 | xoxoBella | Pretty Yellow Things | Styled Blonde
Miss Molly Moon | Twenties Girl Style | The Glitter Gospel Blog | Jasmine Elias | Uptown Fashion by Jess | Alicia Tenise
Kate Loves Makeup | Fashion & Frills | Denver Darling | Super Fashionable | Styled Adventures

Use the widget below to enter the giveaway. The more "tasks" you complete, the more entries you will receive. The winner will be announced (on the widget) within 2 weeks of the giveaway ending. The giveaway is open worldwide.