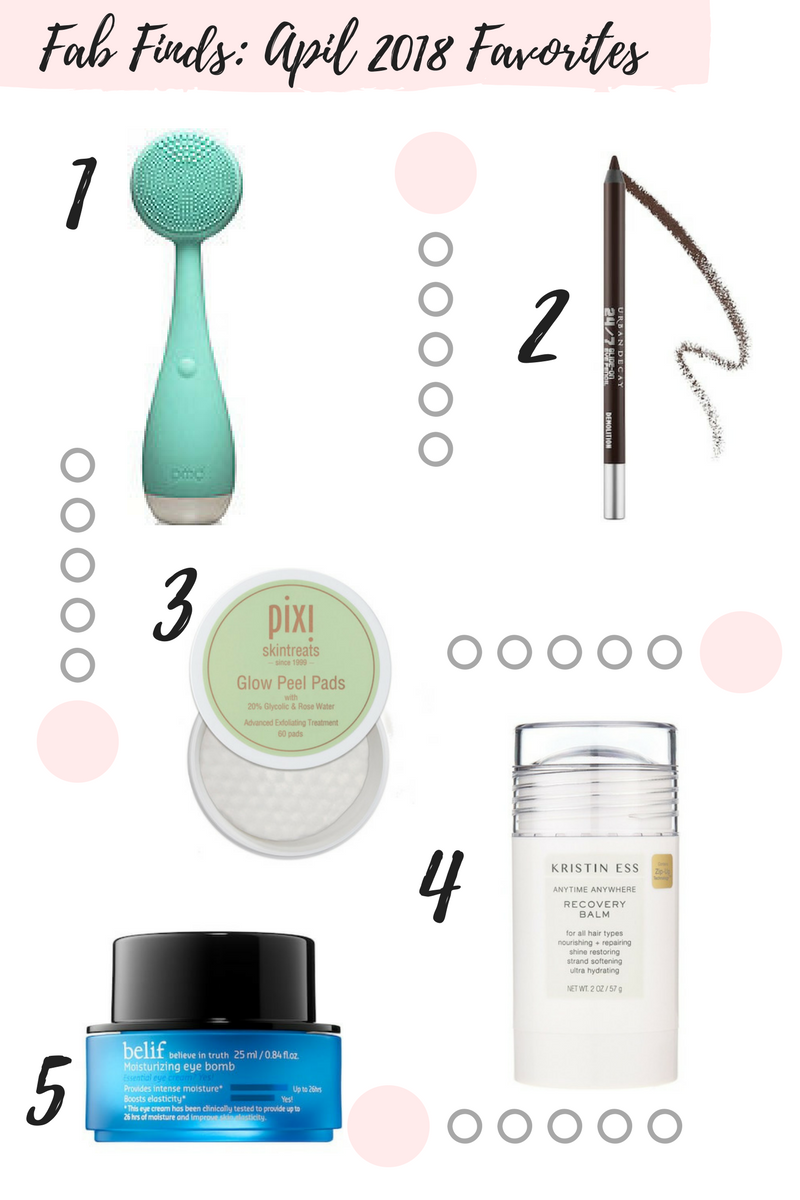 Hey Fab Fam! Another month means another round up of my Fab Finds. I tried so many new products last month so I took it easy this month. Spring is a major allergy season for me as well, so I didn't want to irritate my allergies with too many new products. Here are my 5 Fab Finds from April 2018.
1.PMD Clean

PMD sent me three of their beauty devices to try out. I will be doing a full review on them later in the month. Their newest device, PMD Clean, has become part of my everyday routine. I like that it is made of silicone which is more hygienic than typical brush cleaning devices. In addition to cleaning, you can also use is to apply serums and moisturizer.
2.Urban Decay Eyeliner in Demolition

Urban Decay makes one of the best budge-proof eyeliners on the market. I've used in for years in the black shade. I started wearing dark brown eyeliner instead of black to soften up my everyday eye look. Of course, Urban Decay had the best matte deep brown available. Try it instead of black liner for a more subtle makeup look.
3.Pixi Glow Peel Pads

Pixi Glow Tonic is one of my holy grail skincare products (read about it HERE). Glycolic acid had been such a godsend for my skin. On one of my recent Target runs, I found the Pixi Glow Peel Pads. They have 20% glycolic acid which really deeply exfoliates. I've been using them twice a week at night to really exfoliate my skin before moisturizing.
4.Kristin Ess Recovery Balm

I've raved about other Kristin Ess products in the past. I love that they are all affordable and really work. I'm in the process of healing my hair from previous chemical treatments and other medications. The Recovery Balm has been so helpful in hydrating dry hair and for smoothing down my edges.
5.Belif Moisturizing Eye Bomb

One thing that was missing from my daytime skincare routine was a good eye cream. I have dry skin and fine lines under my eyes due to allergies, so I needed a very hydrating eye cream. I got a sample of the Belif Moisturizing Eye Bomb in my Sephora Play box a few months ago and I fell in love with it. It's so hydrating and really revives tired looking eyes. I bought the full size during the Sephora VIB sale.
Shop The Post:

Have you tried any of these products? Let's chat! Leave a comment below.