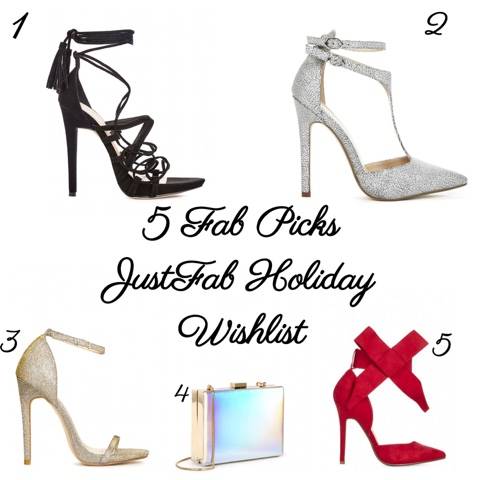 The biggest shopping day of the year is here! People have been camped out for days to score the lowest prices of the season. One of my favorite online stores for affordable fashion is having 50% off the entire site (no camping required)! JustFab offers clothes, boots, bags and more. I'm a high heel lover, so I'm looking for some new ones to add to my collection. Holiday parties are right around the corner. This sale is the perfect way to get all of your festive fashion needs for less! Here are 5 items I'm looking to score this Black Friday:
1. Chancy – Wrap around heels are the big trend of the season. Paired with fabulous tassels, these heels are perfect for making your outfit on trend.
2. Aphra  – I've had my eyes on these heels for a while! I love the pattern and the strappy detail is an updated look for the classic pump.
3. Alla – Gold, glittery and chic all over! I'm obsessed with thin strappy heels and this pair combines all of my favorite things into one.
4. Polaris – A chic clutch is a must have for holiday events. This one is a great size and I love the metallic look.
5. Hadley – Nothing says " Christmas is here" like big red bows. A classic pump gets a holiday twist! Look out for these haute heels in my Christmas photos.
What items are you looking to score? Sign up with my invite link here to get up to 75% off your first purchase (I'll get $10 to shop with too)!
XO, Jo