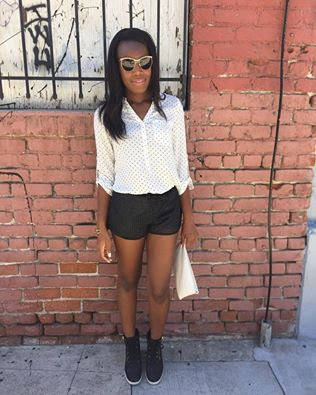 My everyday style is usually a mixture of glam, chic and "femme nouveau". My closet has more dresses than any other type of clothing. I love pink, glitter and unicorns (okay, maybe not so much but you get my point).
Some days I wake up and just want to try something different. I've seen so many amazing photos of fashionista mixing sweet and sporty effortlessly into their #OOTD (that's outfit of the day for those of you that don't speak in hashtags). I've been wanting to try this style and a casual brunch meeting was the perfect occasion.
The sporty piece I chose were these
faux leather track shorts
 ($7.95). The faux leather material and perforated details made these shorts a bit more dressy, so i didn't feel completely out of my comfort zone. The inner lining is super soft which makes these shorts so easy to wear.
To add some feminine flair to the look, I added this 
Woven Dot Tunic
 ($34.95). The light chiffon fabric and polka dot details are oh so chic! The loose fit of this top made it really comfortable, while the buttons made it a bit more structured.
The only time i wear sneakers is when I'm working out, which doesn't happen often. I almost always wear heels. I've wanted to try wearing sneakers with my "non-workout" clothes. The 
"Beya" Wedge Sneakers 
  ($39.95) were the perfect way to wear sneakers with an added feminine touch. The wedge is not too high and the gold details are beautiful.
The items listed above were selected by me from JustFab and all opinions are my own. The cost items were compensated by participating in JustFab's Brand Ambassador program. I was not compensated to write this post. If you would like to join in on all of the fabulous fashion, join JustFab using my 
 Invite Link
 ! You'll get 50% off of your first purchase and other special offers (I'll also get $10 in JustFab Credit).