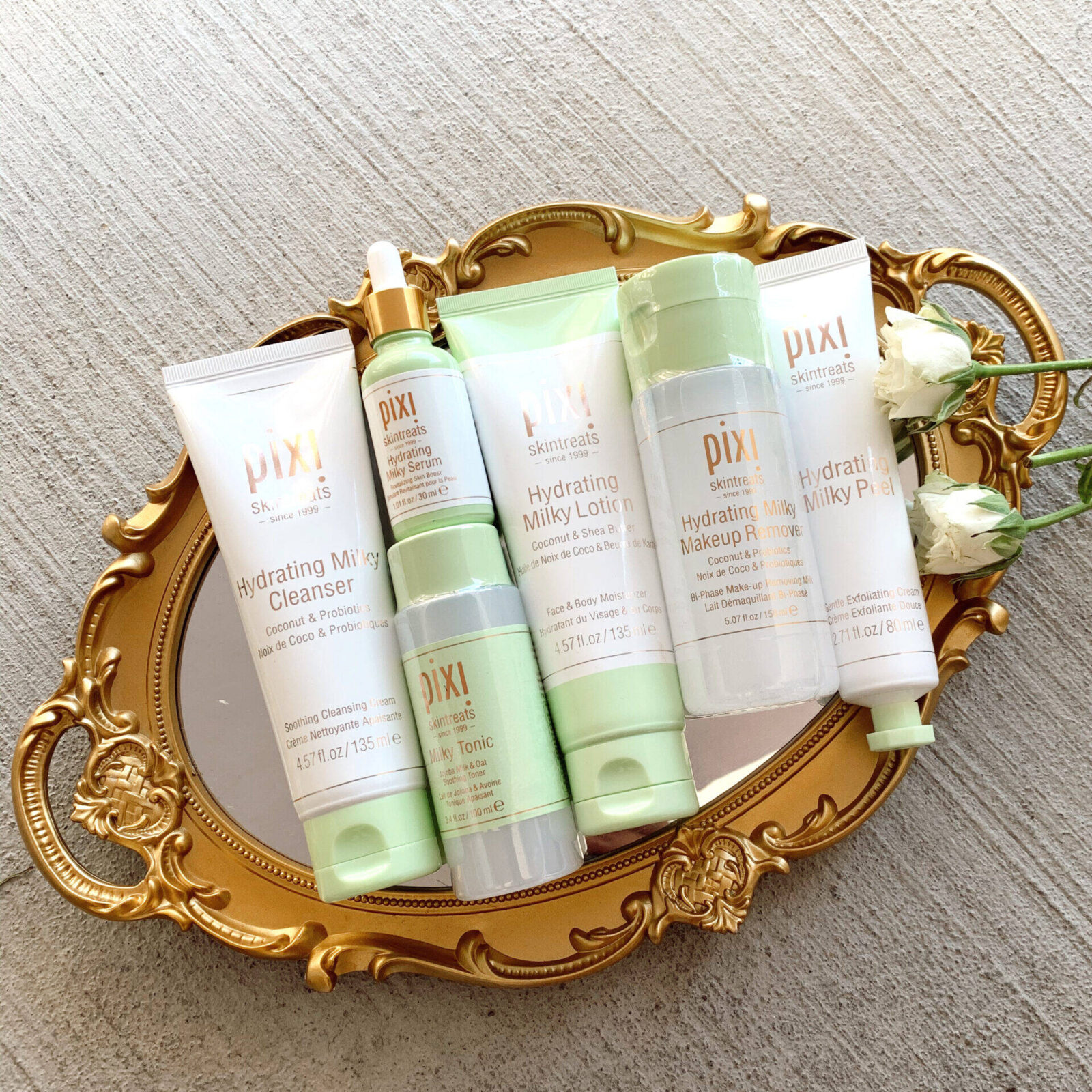 Dry skin season is almost over! Unless you're like me and it's dry skin season year-round. Everyone wants their skin to have that glow. Products that help keep dryness at bay are always on the top of my list.
While I've spent a lot of money trying products that help my skin stay hydrated, I love it when there are affordable options available too! Drugstore skincare can sometimes get a bad rep but there are some true gems out there. Pixi is one of my favorite drugstore skincare brands. Their Glow Tonic is holy grail status in my beauty cabinet. So when Pixi sent me their hydrating milky collection, I was so excited to try it.
The hydrating milky collection by Pixi is a collection of 7 skincare products formulated to keep the skin hydrated. Pixi says "Hydrated skin is happy skin. This is why it's essential to maintain your skin's moisture levels through your skincare routine. Choosing rich, moisturizing skincare products like those found in Pixi Beauty's Hydrating Milky Collection is ideal for anyone who wants firm, healthy and youthful skin".  Below I am breaking down each product and giving my overall review of the collection.
Pixi Hydrating Milky Review – Product Details
1 Hydrating Milky Makeup Remover – $24

This makeup remover acts like micellar water but with a milkier more hydrating feel. It's great at gently removing the makeup. I think it is great as the first step in a double cleanse routine as well. The pump makes it so easy to use.
2 Hydrating Milky Cleanser – $18

Cream cleansers are amazing for dry skin types. They leave you feeling clean without making your face feel tight or even drier. This one does just that. It's also very soothing and the ingredients have anti-inflammatory properties.
3 Hydrating Milky Peel – $24

Every routine needs an exfoliating product. For the milky hydrating collection, this is it! Unlike most exfoliating products, this one also hydrates your skin while exfoliating. It is a micro peel that gently exfoliates to reveal brighter skin. I like this because I have sensitive skin and it isn't overly abrasive. I've also read that it works just as well as another popular $75 peel cream.
4 Milky Tonic – $15

Toners are a great way to prep the skin for treatments and soothe the skin after exfoliation. The Milky Tonic is a hydrating and balancing toner. Ingredients like jojoba milk and oat extract, in addition to the milky texture, make this the perfect toner for dry and sensitive skin.
5 Hydrating Milky Serum – $24

I was most excited about this product because I feel like serums really are the quickest yet most effective way to change my skin. When I first tried this product I was really amazed at how hydrating it was. It was silky but light and instantly hydrating. However, it has a very strong smell that ended up giving me a headache. If you can get past the scent, it is a great product with great ingredients like aloe vera and glycerin.
6 Hydrating Milky Mist – $15

Mists can be great for many purposes like refreshing the skin during the day, soothing after using intense ingredients, or softening the look of freshly applied makeup.  The Hydrating Milky Mist has an added bonus for its hydrating properties.
7 Hydrating Milky Lotion – $24

Lotion is a must for dry skin! The hydrating milky lotion is a dual purpose lotion that can be used on both face and body. It has great ingredients too like Shea Butter, Coconut Oil, and Cocoa Seed Extract. These ingredients instantly hydrate the skin and help it stay nourished all day long. It does have a light yet pleasant fragrance to it. So since it is fragranced I prefer to use it on my body instead of my face.
My Pixi Hydrating Milky Review
Since I have dry skin I was excited about trying this collection. The ingredients in the products are perfect for balancing and soothing dry skin. I was however disappointed with the fragrance of some of the products. Specifically, the lotion and serum. They are very heavily fragranced and gave me a headache.
There is one stand out product from this collection that I loved and that is the gentle milky peel. I am a big fan of Pixi's peel products (read other reviews HERE). I really like that this one is both gentle and hydrating. The other product I would recommend from this collection is the cleanser. If fragrance doesn't bother you, the whole collection might be something you love.
Shop The Collection:

Did you find this Pixi Hydrating Milky Review helpful? Let's chat! Leave a comment below.