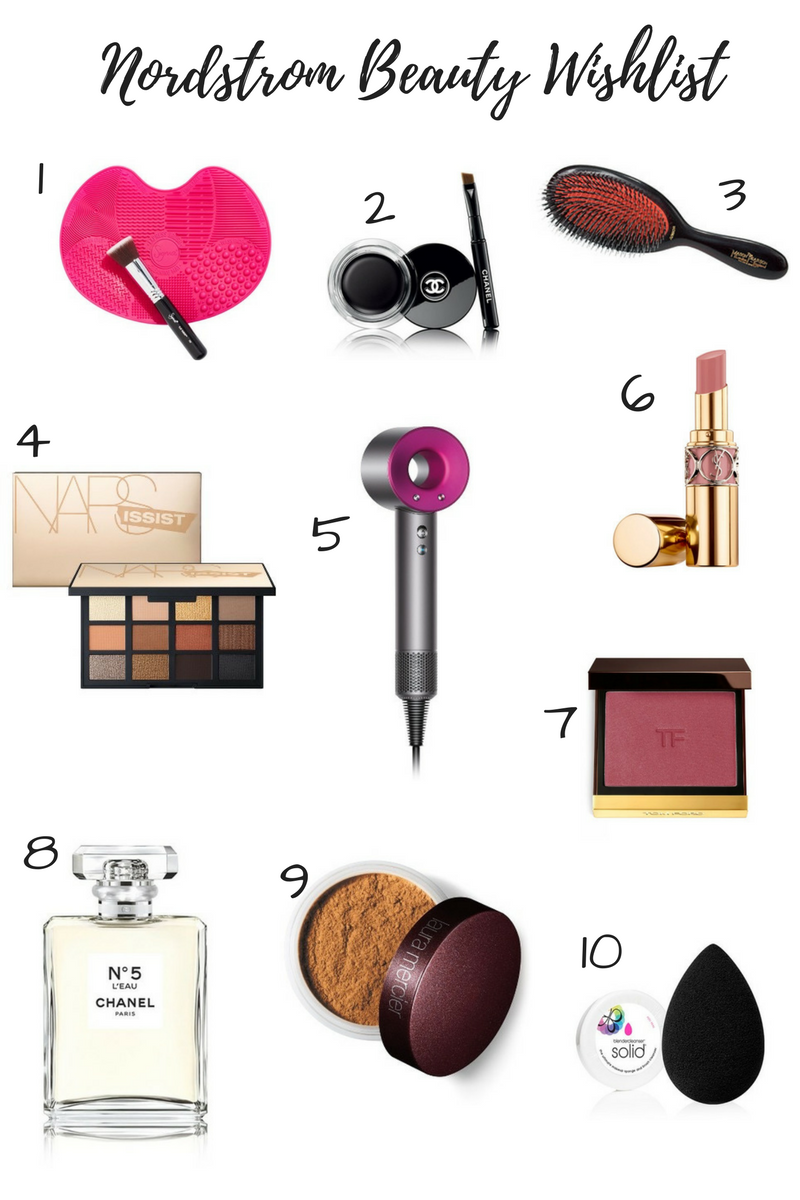 I can't be the only one who has a wishlist of beauty products, right? There are so many new fabulous things being released everyday. Of course I have my holy grail, go-to products but who doesn't love trying new things? Some of the products I've had my eye on are a little pricey but get rave reviews from the beauty community. A few of the products are already my faves but I want to try them in a new color.
Trying new beauty products can get pricey! Especially when you have a $400 blow dryer on your wishlist like me. I've teamed up with some of my blogger friends to give you the opportunity to win a $1,000 Nordstrom gift card! You'll be able to buy your beauty favorites or whatever else you've had your eye on. See my top 10 beauty wishlist items and enter to win a $1,000 Nordstrom gift card below.
Nordstrom Beauty Wishlist

1. Sigma Brush Cleaning Mat – I have the glove version of this and it gets your brushes really clean! I have over 100 makeup brushes so I think the larger mat would be very helpful on brush washing days.
2. Chanel Longwear Cream Eyeliner– I've heard great reviews about the staying power of this eyeliner. I'm also really interested in this because it's a matte formula.
3. Mason Pearson Junior Mixture Brush– I've had my hair brushed with one of these brushes before and it is really amazing! I'm sure you've also heard other rave reviews about this hair brush
4. NARS NARSissist Loaded Eyeshadow Palette– This palette has the perfect shades for my go to brown smokes eye look. I haven't tried NARS eyeshadow but all the other NARS products I have are amazing!
5. Dyson Hair Dryer– Okay I'm sure you've seen this everywhere! This hair dryer cuts your drying time in half. I'm trying to use less heat on my hair so this dryer seems very interesting.
6. YSL Oil-In-Stick in Nude in Private– This is my favorite lipstick formula! Both shades I have are red so I'd love a nude shade.
7. Tom Ford Cheek Color in Wicked– I had this color put on once by a makeup artist and I fell in love with it! A light touch of this gives you a great wash of color on your cheeks
8. Chanel No5 L'Eau spray– This classic iconic fragrance is so beautiful. I would love to add the clean, minimalistic bottle to my perfume tray.
9. Laura Mercier Translucent Setting Powder in Medium/Deep– I already use this setting powder in the regular translucent shade. I'm so excited that it now comes in a darker shade./
10. BeautyBlender Pro– It's time to replace my current beauty blender. I like to use the pro so my foundation doesn't stain it.
Money Can Buy Lipstick | Busbee Style | Toreys Treasures | Sunsets & Stilettos | Posh in Progress
With Love from Kris | Coming Up Roses | Chasing Cinderella | Sunshine & Stilettos | Life Lutzurious
Glitter Inc | Effortlessly with Roxy | Haute Sweat | Street Style Squad | Nines to 5
So Heather | I'm Fixin' To | Vandi Fair | The Closet Crush | The Polished Posy
Blush & Blooms | My Style Diaries | Side Smile Style | RD's Obsessions | Styled by S
Sabby Style | Fashionomics | Dots & Honey | Pretty in Pink Megan | The Middle Page
Topknots and Pearls | January Hart | The Styled Teacher | Absolutely Annie | Pure Joy Home
Le Fab Chic | Running in Heels | Denver Darling

The giveaway is open to U.S. and Canada residents only! The more "tasks" you complete below, the more entries you will receive, increasing your chances of winning! The giveaway winner will be announced within 2 weeks of the giveaway ending, and will appear on the widget below.
What's on your beauty wishlist? What would you buy with a $1000 Nordstrom gift card? Let's Chat! Leave a comment below.