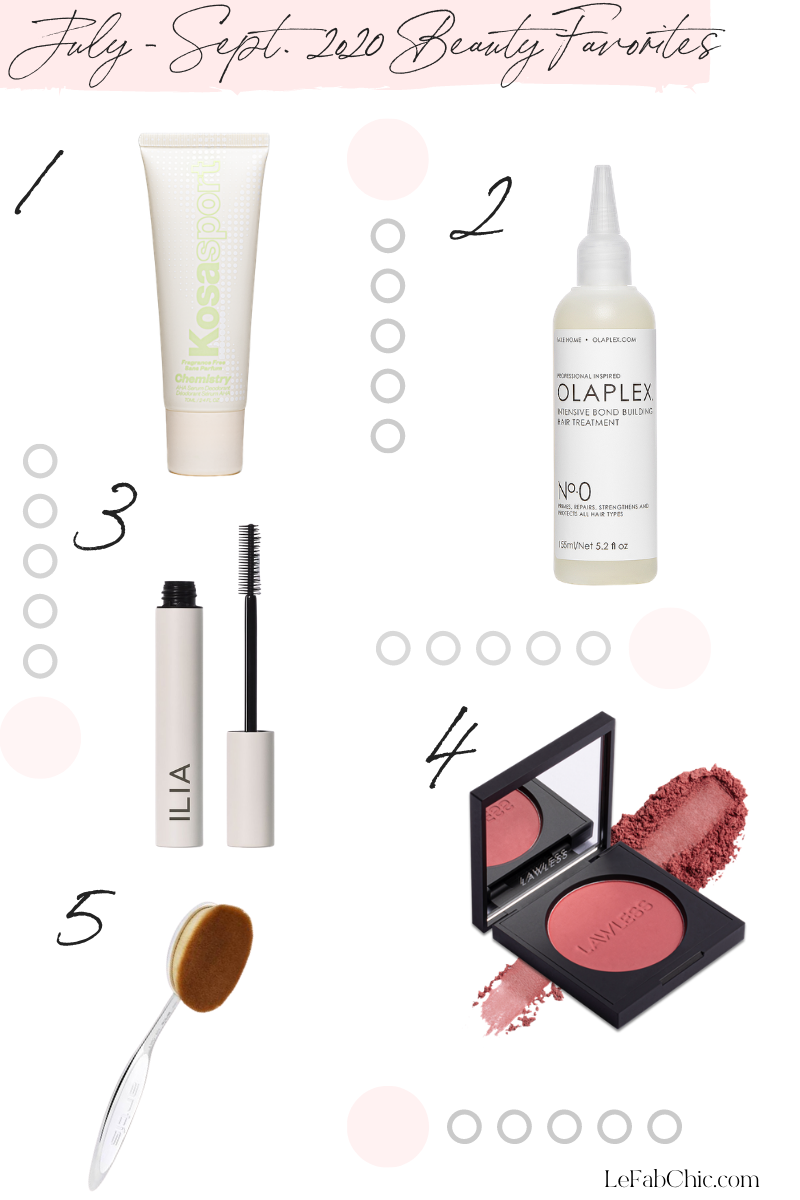 Well, it's been a crazy few months to say the least. So many things are changing on a daily basis during 2020.  Since I haven't been going out much, my beauty product focus has been mainly skincare or products I can use for at-home beauty treatments.
I started staying home in March, so I've been combining two months in each of these posts while I'm trying out fewer new beauty products. For this round up, I am combining 3 months of favorites into one post. Since there are only 3 months left in 2020 (can you believe it!?), I will go back to doing a monthly favorites at the end of each month.
July – September 2020 Beauty Favorites
1. Kosas Chemistry Deodorant 

I've worn natural deodorant for years! I've also really come to love the use of AHAs in my skincare routine. SO when Kosas announced a clean deodorant with AHAs, I was sold! The acids help brighten and exfoliate the underarm area as well as preventing odor. This deodorant works really well! 
2. Olaplex No. 0

Olaplex N0. 3 has been a holy grail status in my beauty cabinet. It really helps with repairing damaged hair and rebuild the bonds. Since salons have been closed and most people are caring for their own hair at home, olaplex created No 0 to give you salon results at home. It goes on as a pre-treatment that works with No. 3. My first time using it, I instantly noticed a difference! My hair was silky, less frizzy and my flatiron job lasted a lot longer.
3. Ilia Mascara 

I've been interested in adding more clean beauty products into my routine. Especially mascara. Whatever ingredient makes traditional mascaras water proof tends to make the areas around my eyes break out in a rash. The problem I've ran into when trying out clean beauty products is they often dont have the same results as traditional beauty products. Not with this mascara! It works just as well as regular mascaras and the clean ingredients are a bonus.
4. Lawless Blush

As I mentioned for the previous product, I've been interested in adding more clean beauty products into my routine. That is why I decided to try this blush. One of my favorite eyeshadow palettes is from Lawless, so I know their powder products really work. This blush was no disappointment. It has amazing color pay off and is also talc-free!
5. Artis Oval 8 Brush

I've had a full set of artis brushes for almost 5 years now. That is why this brush made the list of my beauty favorites. It still looks brand new and works just as well as when I first bought it! The price point in an investment, but I can say after years of regular use, they are definitely worth it.
Shop The Post: 

What products have been your favorites recently? Did you try anything new and love it? Let's chat! Leave a comment below.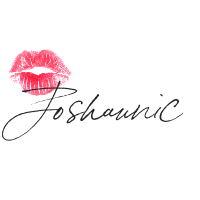 For previous Beauty Favorites posts, click HERE.