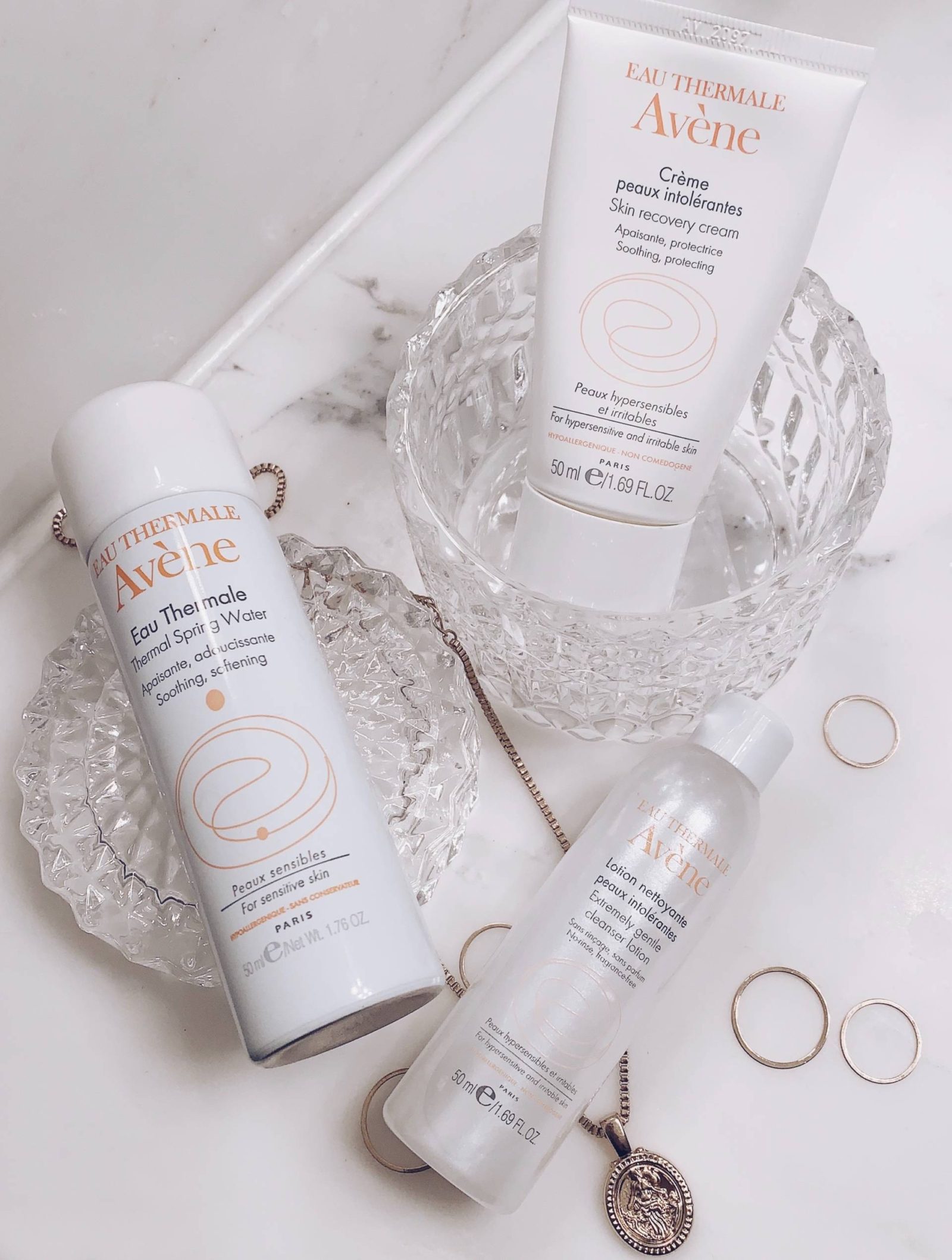 I have very sensitive skin and it gets irritated quite often. Anything from a change in the weather, to trying a new product can cause my skin to become an irritated mess. For me, the irritation shows as a rash of tiny bumps, dryness, itchiness and a slightly red tone. Not a good look!
Since I've dealt with irritated skin a lot, I've learned how to soothe and restore my skin when it happens. There are 2 steps that instantly help to reverse the signs of irritation for my skin. If you want to know how to soothe your skin when it gets irritated, keep reading.
2 Tips for Soothing Irritated Skin
1. Use a simple skincare routine made for sensitive/irritated skin
You never want to irritate your skin further by using the wrong products on it. I love my regular skincare routine but when I'm dealing with irritation, I like to keep it simple. This kit by Avene is my go to when my skin gets irritated.
I was introduced to Avene by a dermatologist a few years ago and it is one of the best skincare lines for sensitive skin types. The kit includes a very gentle soap-free cleanser, Avene's famous thermal spring water and a cream for sensitive skin. The cleanser cleans without making your skin more irritated and the spring water adds moisture and soothes. The cream is a miracle worker that helps calm and moisturize the skin. If you deal with irritated skin often, you'll want to keep one of these kits on hand.
2. Use cold to soothe
Just like ice packs soothe aches and pains, cold temperatures can soothe irritated skin. If I'm at home, I grab my ice roller from the freezer and roll it over my face after doing the skincare routine. If I'm traveling, I use the Hot and Cold wand from vanity planet. I use it on the cool setting for 2 mins. If you're in a pinch, you can place a clean metal spoon in the freezer for a bit then once it's cold, rub the back side of it on your face.
I also keep the Avene thermal water in the fridge for a cool refreshing mist throughout the day. Using cold skincare products is so soothing! To see what else I keep in my skincare fridge click HERE.
These steps should help irritation. If you're not sure that it's irritation that you're dealing with, make sure you consult a doctor before trying any of the tips above. This is just what works for me when my skin is irritated and is not meant to be medical advice.
Shop The Post:

How do you deal with irritated skin? Let's Chat! Leave a comment below.