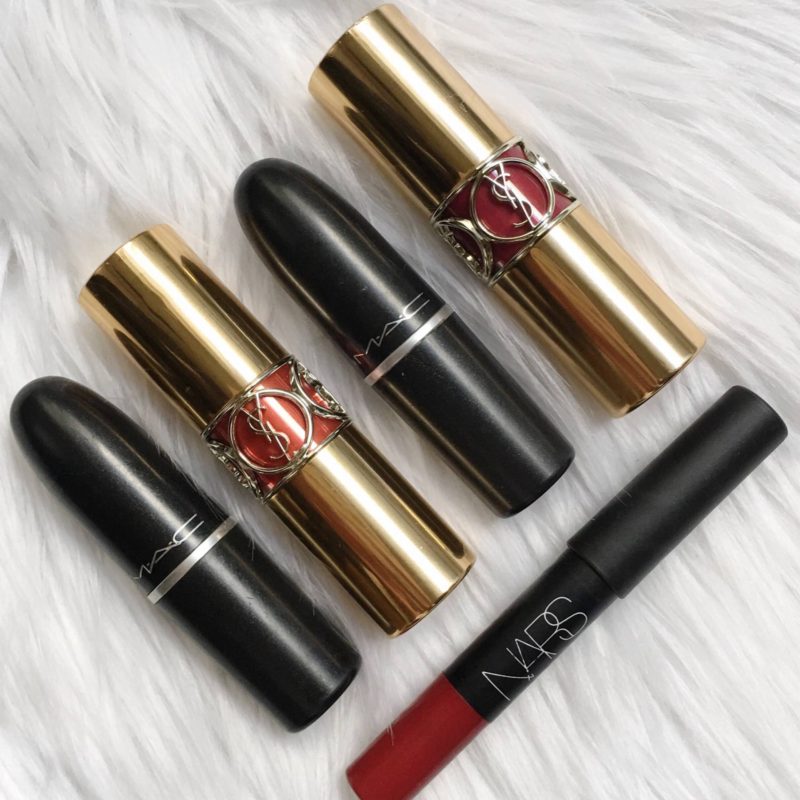 I can't think of a more iconic makeup must-have than the perfect red lipstick. It's the quickest way to give your look a pop of color. I've heard makeup lovers say red lips are like a shot of espresso for your face by giving it an instantly energized appearance. Red lipstick also makes your teeth look whiter!
For the longest time, I thought I couldn't wear red lips because of my skin tone. The truth is, I just hadn't found the perfect color for me. I discovered my first red lipstick when I had my makeup done for a pageant. The makeup artist put a beautiful glossy red on my lips, and I fell in love with it!
Finding the perfect red lipstick is a fun journey. There are so many formulas, undertones, and finishes to choose from. I've now found five red lipsticks that I love!
Here are my top five best red lipstick products:

This was my signature red lipstick in my early 20's. It is a deeply pigmented matte. Because of its neutral undertone, it looks great on every skin tone.

Lately my lips have been very dry, so I like to wear more moisturizing formulas. YSL oil lipstick is my favorite for a glossy dose of hydration. It gives you the perfect wash of build-able color. My favorite reds from YSL are #04 & #29.

This NARS lip pencil was a Sephora birthday perk a few years ago. It's such a universal color, so anyone can wear it. I also love the pencil because it's perfect for travel.

At only $3, this red lip crayon by e.l.f. should definitely be in your makeup bag. It's a non-drying, build-able shade. The twist-up crayon style packaging is perfect for storing in your bag every day.

I got a sample of this lip stain in my Sephora play subscription box and was so amazed! A lip stain is great if you want a long-lasting red lip without having to reapply. My beauty-loving friends are obsessed with this lip stain.

What are your favorite red lip products? Have you tried any of the ones I mentioned? Let's chat! Leave a comment below.