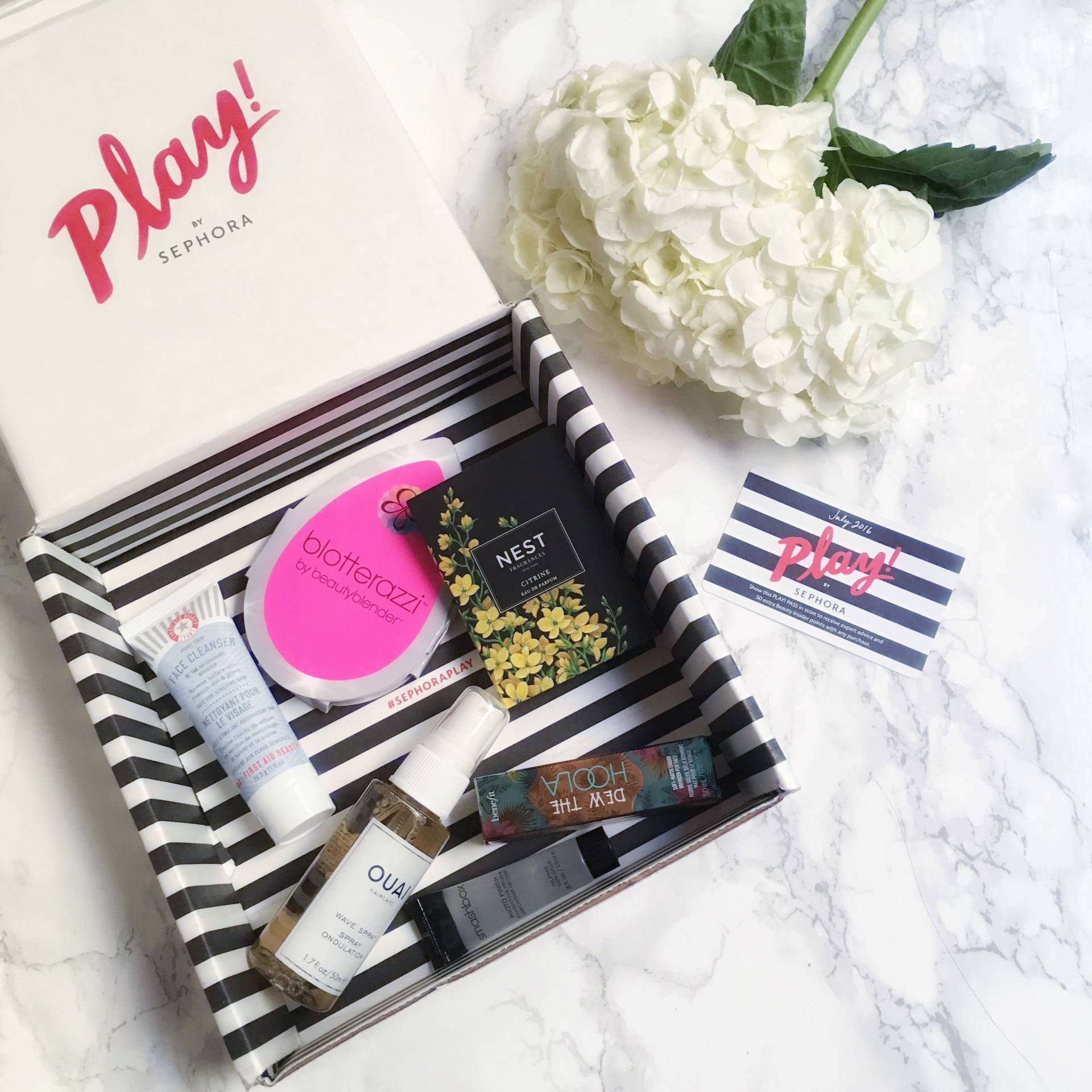 I am a self proclaimed beauty junkie. Sephora is my candy store! Walls of shimmering eye shadow and luscious lip gloss make my heart fill with joy. My bathroom counter is filled with makeup, hair products, skin care and so much more. I'm the girl that tries all of the latest and most popular products. To me They're like Pokemon, "Gotta catch 'em all".
So when I heard that Sephora came out with a monthly subscription box, I just had to have it! I've heard of many other beauty subscription boxes but none of them caught my eye like this one did. The Sephora Play box comes with 5 deluxe sized beauty samples plus a bonus perfume sample. I like that the samples are larger sized than any other subscription box because that gives you the opportunity to really try out the product multiple times to see if you like it. I also liked that all of the samples are big brands that are carried at Sephora. So you'll really get the opportunity to try expensive luxury products before shelling out the money for the full size.
The best part is the Sephora Play box is only $10 a month! It's totally worth it too. For the price of one venti triple-shot skinny white mocha with coconut milk, you can get 5 luxury beauty products and a perfume. If you are a member of Sephora's Beauty Insider program, you'll also earn points for each subscription box you get. The box also comes with a card that gets you a one on one beauty tutorial of your choice, plus an extra 50 bonus points with any purchase. There are also exclusive events just for Sephora Play subscribers. Joining Sephora Play box subscription is really worth the $10!
July was my first month of receiving the Sephora Play box and i am obsessed with the products I got. I was able to specify my skin type in my Sephora profile, so my products are best suited for dry skin. My friend who has oily skin received similar products but the formula was better for her skin type. Each box has a theme and this month's theme was "Effortless Summer". Below are the 6 products I received in my July Box.
Ouai (pronounced way) is a new and popular hair care line by celebrity stylist, Jen Atkin. This wave spray is amazing. It produces soft, effortless waves on wet or dry hair without the stiff feeling. It smells fantastic too!
2. Smashbox Photo Finish Foundation Primer
This is one of the most raved about primers and I see why. It goes on smoothly and helps to create a smooth, pore-less, non greasy based for your foundation.
3. Benefit Cosmetics dew the hoola soft-matte liquid bronzer for face
This bronzer smells like a tropical vacation! Even though I'm not one to wear bronzer, the consistency of the product is amazing. It feels very moisturizing and is great for summer.
4. First Aid Beauty Face Cleanser 
I've heard so many amazing things about this cleanser. My sister says it is life changing! It's a great cleanser for everyone no matter what skin type you have. Read the reviews and you'll see that everyone loves it
5. BeautyBlender 'Blotterazzi' Blotting Sponge 
Blotterazzi is a reusable blotting sponge from everyone's favorite makeup sponge company. It removes oil and shine from your face without removing your makeup. It also came with a cleanser! This is now a must have in my purse.
Bonus Item: Citrine Eau De Parfum by NEST  
This is what summer smells like! A very light floral with citrus notes. I also love that it is named after one of my favorite stones.
Have you been wanting to try Play by Sephora? Sign up here. Shop full sized products below.