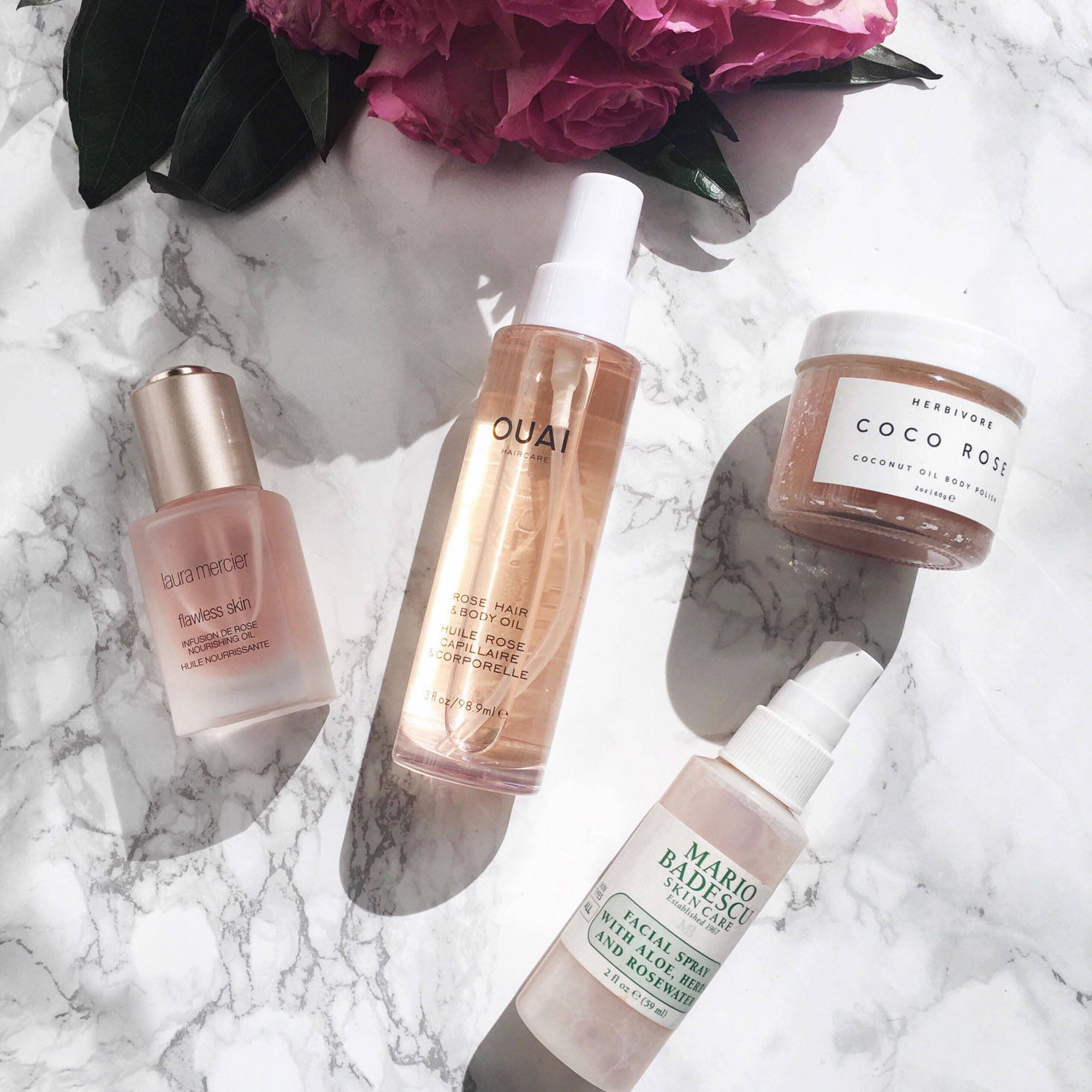 Rose isn't just my favorite flower, it's also my favorite beauty product ingredient. It smells amazing and has so many beauty boosting benefits! Rose soothes, hydrates and has mood boosting properties. You can have skin as soft as a rose petal by adding rose infused beauty products into your beauty routine.
There are so many rose infused beauty products on the market. From hair oil to body scrubs, you can be a rose beauty from head to toe! Below are 11 of my favorite rose infuses beauty products.
1. Pixi Rose Flash Balm – A skin care treatment and makeup primer all in one.
2. Laura Mercier Rose Nourishing Oil – A lightweight beauty oil. I use it to moisturize cuticles and as a hydrating facial oil.
3. Pixi Makeup Fixing Mist – Refreshes and sets your makeup. Also soothes your skin with rose and green tea.
4. Kopari Coconut Rose Toner – A revitalizing second step in your skincare routine. Helps to reduce redness and pores.
5. C.O. Bigelow Rose Salve – Multi-purpose balm that can be used on dry patches
6. Sephora Rose Face Mask – My go to sheet mask for hydrating and brightening.
7. Herbivore Coco Rose Body Polish – An in shower scrub that removes dry skin and helps skin to better absorb moisture.
8. Sephora Rose Lip Balm – Hydrates lips all day long and also adds subtle, rose tinted shine.
9. Sephora Rose Face Wipes – Cleansing and makeup removing wipes with a scrubby exfoliation on one side.
10. Ouai Rose Hair and Body Oil – My favorite hair and body oil. Leaves a subtle scent and really hydrates hair and skin.
11. Peter Thomas Rose Stem Cell Gel Mask – A soothing and cooling gel mask that treats dehydration and dullness.
Shop the Post:

Have you tried rose infused beauty products? Let's chat! Leave a comment below.