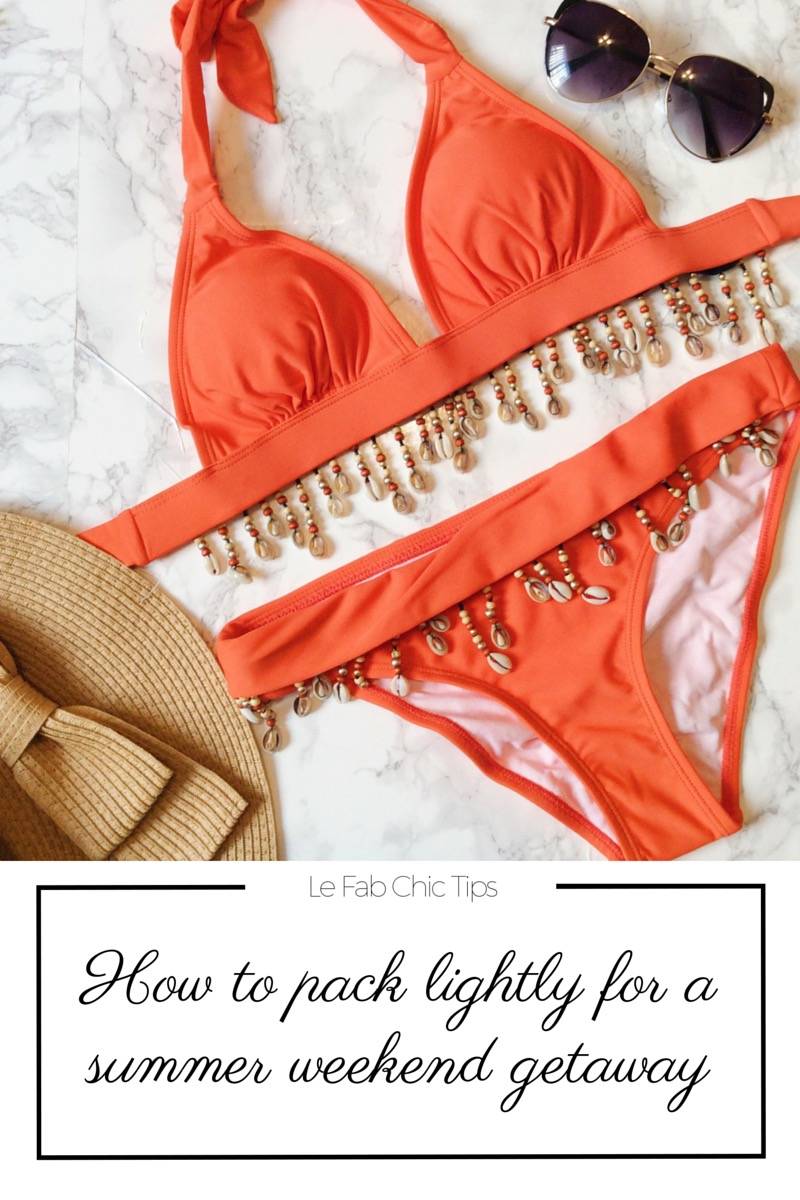 The weather is finally warming up and It's officially vacation season. I am a reformed over packer that used to bring my biggest suitcase for even a weekend get away. Lately I've been trying  to be more of a minimalist when it comes to packing (Because the money for oversize bag charges is better spent on a new pair of shoes). It's been a long journey from packing a separate suitcase just for shoes to being able to fit a weekend's worth of necessities into a tote bag.
 Here are 5 tips to packing lightly for a summer weekend get away: 
1. Simplify your makeup routine 
I'm a former beauty queen, so you can bet that I have a full on train case of makeup. For myself, stage makeup isn't necessary for a weekend vacation and packing less product frees up a lot of space in my bag. I've simplified my daytime vacation look to tinted moisturizer, blush, mascara and brow powder. For night I just add a bolder lip and some eyeliner. Having this in mind while packing prevents me from bringing all 5,437 of my lip glosses because I " haven't decided what look I'm going to do".
2. Wear convertible hair styles
Wearing braids during the day can give you sexy beach waves for night. A sock bun worn all day can also create romantic curls for night. Find hair styles that allow you to pack fewer tools and products. Plus, you'll want to spend your time enjoying your trip, not doing your hair.
3. Pack double duty fashion 
Instead of bringing multiple items, find items that can be worn multiple ways. This bikini from Beach Gal Swim is the perfect example! Their Swap and Swim styles come with multiple accessory options, so you can create many looks with just one bikini. I wear my Beach Gal bikini with seashell trim for a day at the beach. For the next day lounging by the pool I'll swap out the shell trim for chic ruffles. If I wear my bikini again on the same trip,  I'll just wear it without any accessories. This 3 in 1 secret saves so much room in my bag!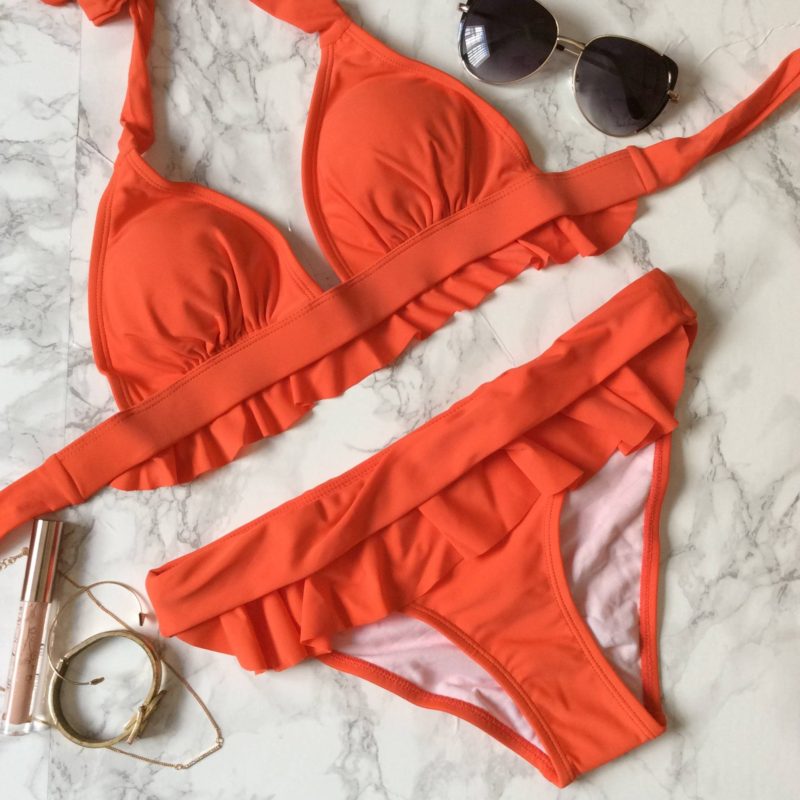 This is the same Beach Gal bikini as above with ruffle accessories instead of the shell trim
4. Accessorize to change the look 
Accessories are an easy and light way to change any outfit from daytime, to date time. A chic belt over a caftan can take it from beach side lounging to a casual dinner dress. A simple romper can be dressed up with a blazer and jewelry. Swap out your daytime sandals for heels and you've totally changed the outfit. Accessories take up less room in your bag and can be worn more than once.
5. Shop locally
A vacation for me always includes an hour or two (or 5)  of shopping. Packing less means more room in my bag to bring home new items. I always used to end up wearing the items I purchased while on vacation instead of the items I packed anyway. Before leaving for your trip find out where the local malls and shops are and see if they have some of your favorite stores. This will help ease your mind about not packing 5 million outfits.
What are your vacation plans for this summer? Do you have any packing tips to share? Leave a comment below and let's chat!
Don't forget to check out Beach Gal Swim here for this must have bikini! You'll save so much space in your bag while still looking fabulous and chic. I received this bikini for free for an honest review. I can honesty say I'm obsessed with it and Beach Gal is my new go to for bikini shopping.
* Some links in this post are affiliate links. By clicking on or purchasing from the links in this post, I may be compensated. Thank you for supporting the brands that allow me to keep Le Fab Chic running.
Shop some of my beach vacation essentials below by clicking the photo: