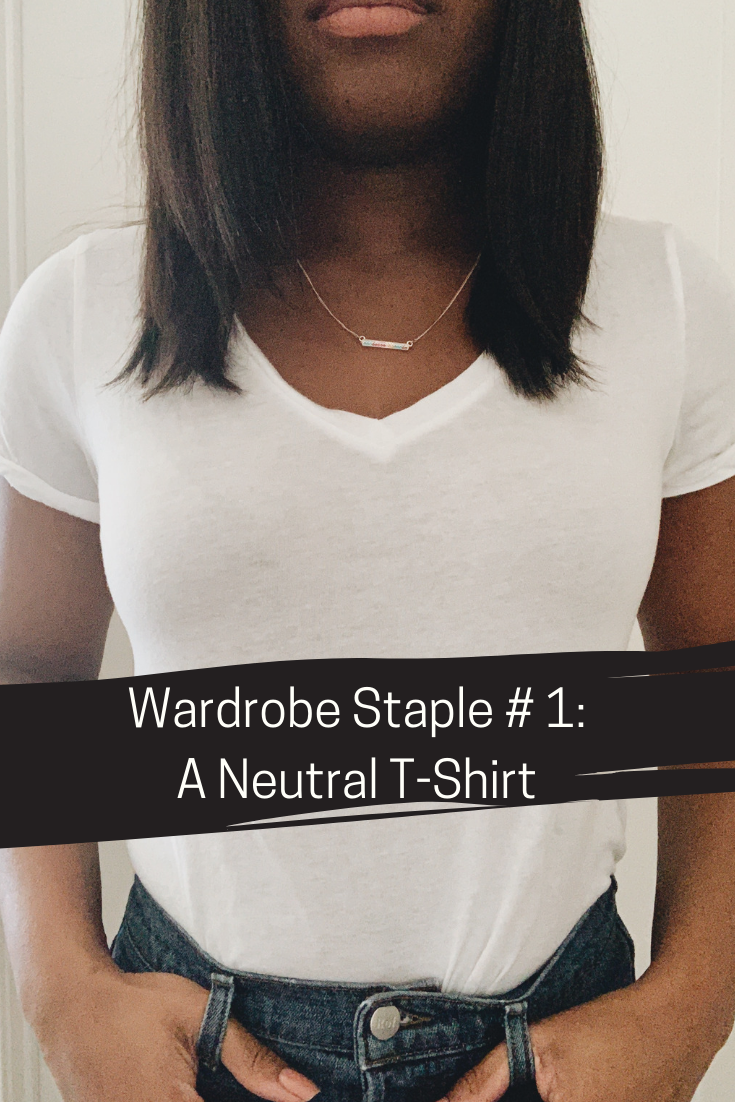 We're here! Welcome to day 1 of Wardrobe Wednesdays! If you missed the series announcement you can check it HERE. Every Wednesday I will be sharing a wardrobe basic to help you (and me) build a better wardrobe.
Wardrobe basic #1 is… A Neutral T-Shirt
In college, I had an obsession with Hanes men's white t-shirts. I would buy them oversized and style them with everything from jeans to sequin skirts. Just like any wardrobe basic, t-shirts are so versatile and can be worn so many ways! You can dress them up, dress them down, layer them over or under other pieces. 
Wardrobe basics are important, but it's even more important to tailor them to your style!. My personal preference is to have at least one in white and one in black. Whatever neutral you love to rock, make sure to pick up a t-shirt in that color.
Also, there are a variety of necklines and cuts to choose from for your t-shirt. My personal favorite is a slightly loose cut with a V-neck. A longer length t-shirt is also more versatile because you can tuck it in, tie it up, or wear it loose. If your budget allows, I'd also grab a fitted crew neck style. Both cuts can be worn for casual or dressy occasions.
When shopping for your perfect wardrobe staple T-shirt, it's important to make sure to find the best quality t-shirt for women that your budget will allow. My fashion rule number 1 is to save money on trendy pieces and invest money in the basics. My current go-to store for neutral t-shirts is Madewell. You can shop my favorites and also a few other recommended styles for any budget below.
Shop Neutral T-Shirts for any budget:
(click the images below to shop)
What neutral t-shirt is your fave? Let's chat! Leave a comment below.