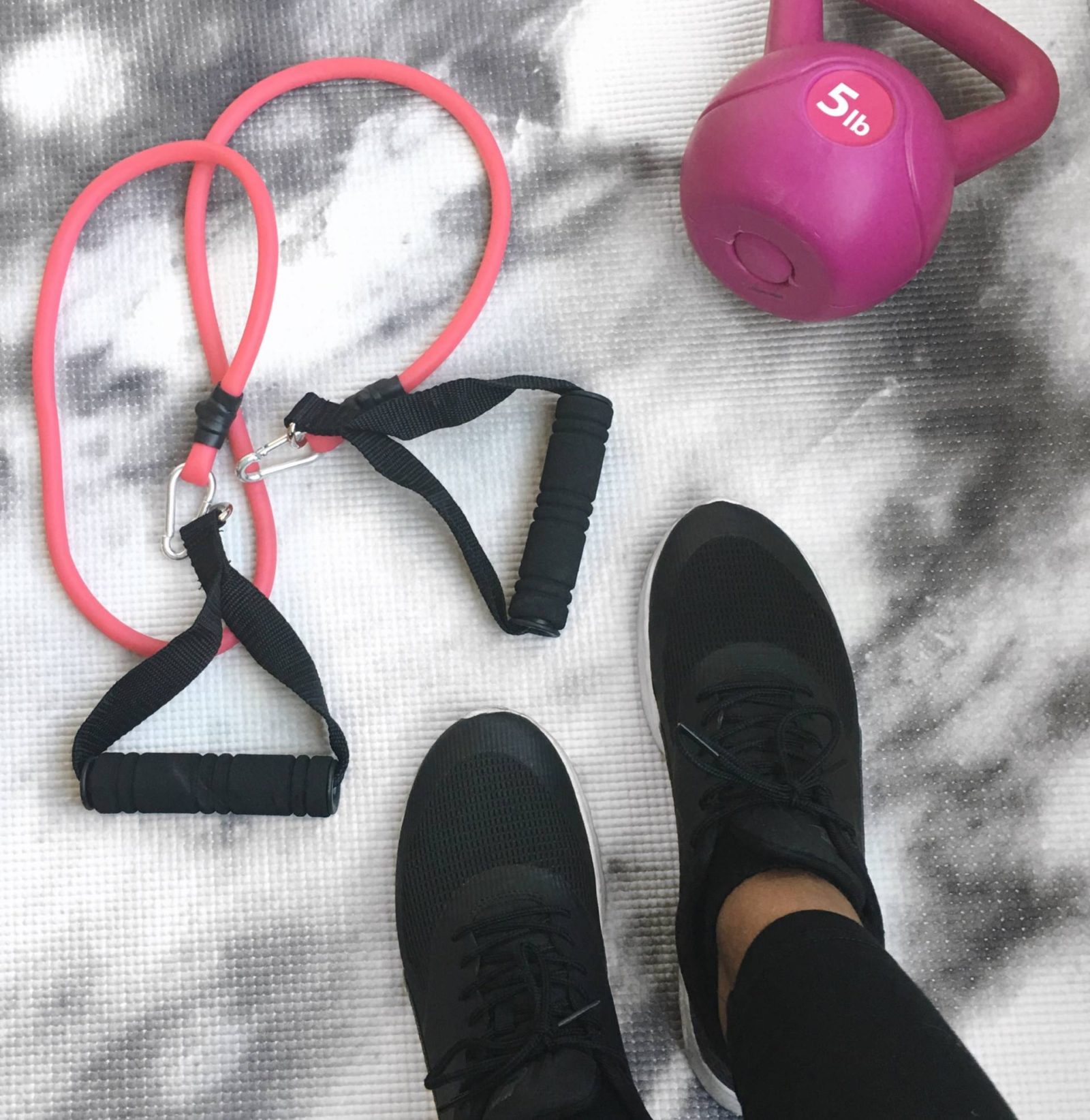 It's the beginning of a new year and with that comes many health resolutions. A resolution many people are trying to keep is to workout more. This is a month where the gyms are packed!
I definitely want to workout more often but I am not a gym person. Too many people, the smell, intense machines… Just not my thing. I do enjoy fitness classes though.
Since my schedule changes on a weekly basis I needed to find a workout that I can do at any time and when traveling. With the wonderful world of the Internet, I found so many workouts on YouTube. These workouts can be done anywhere and require minimal equipment. Here are the items I find my self using the most often.
Best Home Workout Equipment
1.Yoga Mat
This is a staple for most workouts! It gives you a great space to stand on and provides cushion and stability. I found my marble printed yoga mat at T.J. Maxx for $9. There are also many great and affordable options online. Click on the images below to shop chic yoga mats.
2.Jump Rope
A jump rope is perfect for a good cardio workout no matter where you are. They are so compact which makes them great for traveling. You can find workout jump ropes at target and other local stores. Click on the images below to shop fab jump ropes.
3.Weights
Weight are a must for strength training. Kettlebells, ankle weights, dumbells… There are so many different ways to incorporate weights into your routine. I found my weights at T.J Maxx and Target. You can shop a variety of weights by clicking the images below.
4.Resistance Bands
Resistance bands create force against your body. They are another great way to do strength training. They are also very light weight which makes them great for travel! Check out a variety of resistance bands by clicking the images below.
5.sliders
Sliders help with being able to perform a variety of workouts on any type of floor. There are so many workout videos on youtube that use sliders. Shop a variety of sliders by clicking the images below.
I get most of my fitness equipment from T.J. Maxx, Amazon or Target. These places all have budget friendly (and pretty) options to choose from. I find most of my workouts on youtube. Read my post on 5 ways to stay motivated to workout HERE.
Are you a gym lover or do you prefer to workout at home? Let's chat! Leave a comment below.